MLS and former regional Youth Services Advisors were applauded as Gerri Fegan, MSLA President, conferred special recognition on five outstanding librarians for their tireless efforts in providing services to benefit school libraries.  President Fegan said that school librarians owe a great debt to these talented advisors for providing hundreds of programs and other services that have benefited thousands and thousands of students in Massachusetts'  school libraries.
There was a standing ovation by dinner attendees for the honorees:
Maureen Ambrosino (formerly at CMRLS)
Susan Babb  (formerly at NMRLS now at MLS)
Vickie Beene  (formerly at SEMLS)
Janet Eckert  (formerly at WMRLS)
Sarah Sogigian (formerly at MMRLS now at MLS)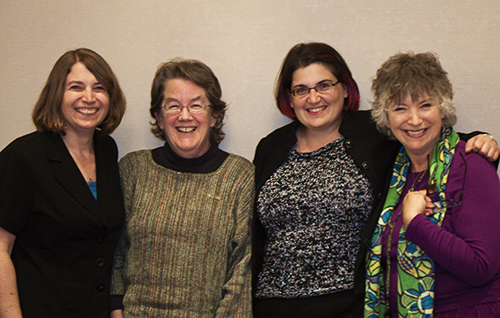 President Fegan provided a warm welcome and introduced me to the MSLA membership. She invited MLS to meet with members over lunch during the event.  Carolyn Noah, Nora Blake, Susan Babb, and Sarah Sogigian and Executive Board members Vicki Biancolo, Karen Davidson-Heller, and Debbie Froggatt were all in attendance.
360 attendees filled the Sturbridge Host Hotel for the MSLA 2010 Annual Conference.  Well-known speakers, authors, and vendors joined the membership contribute to this successful event (see: http://maschoolibraries.org/content/view/759/373/)
Contributed by:  Greg Pronevitz