Dear MLS Members,
As 2010 draws to a close we wish our members a happy holiday season.
The past five months have been a blur for the MLS staff.  Everyone has been making a great effort to make MLS an effective "state-wide" organization—serving libraries from Williamstown to Provincetown (and everywhere in-between).  We have enjoyed the many opportunities to meet with members at the numerous open houses, continuing education events, and other meetings.  We hope to see more members in the coming year.
Here's a map showing the 900 individuals who attended MLS CE events between July and October.   MLS hosted over 60 events in 36 communities.  We hope that we are  providing training in topics of interest to all libraries throughout the Commonwealth.  609 members participated in our recent CE survey.  We are evaluating the results and will be doing our best to meet your needs.  Please check out our online calendar and we hope to see you at a CE event soon.  Try the monthly, compressed view, for a quick review.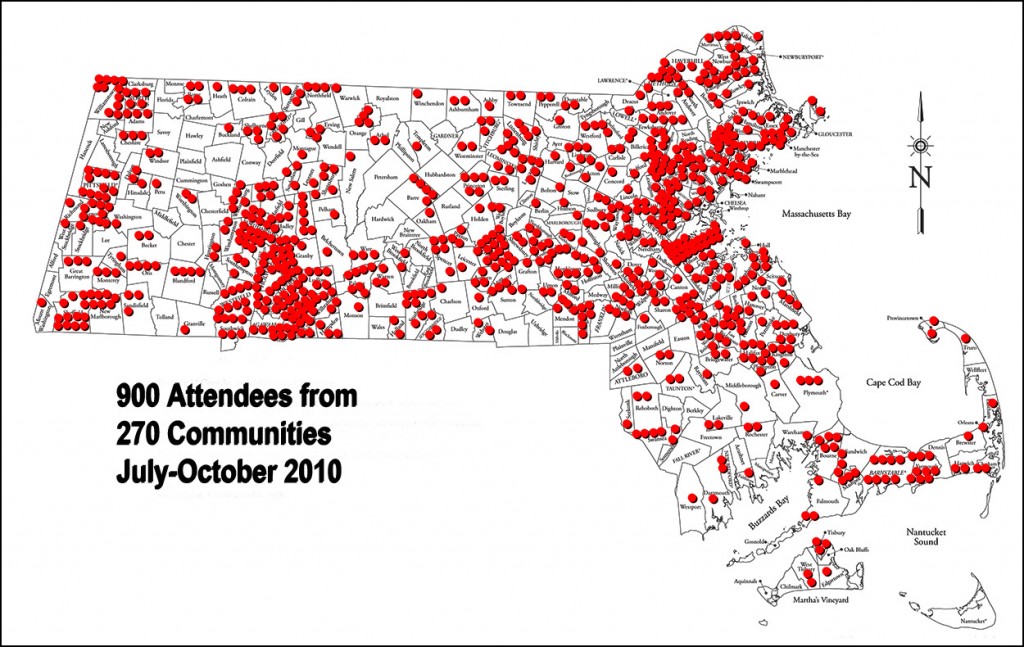 In the area of Advisory services, members from 156 communities contacted MLS.  There were multiple contacts from many of these towns.  We are striving to make ourselves available and to promote the Advisors' expertise.  Please visit our resource page for details.
Online Content: In September we launched statewide access to 13 Gale/Cengage titles.  Boston libraries were familiar with these resources but they were new for most other Massachusetts libraries.  These titles were searched over one-half million times.  If you are unfamiliar with them, please attend a training/orientation event and/or see the original announcement.
MLS is evaluating the use of these titles and exploring other options for online content, including the content provided by the former regions.  We do not have the funds to purchase licenses for all of the content our members want or need.  Our decisions will be based on our statewide, mulitype library membership.    If you are interested in playing a role in decision making for online content licensing, please submit your name to our online form.
MLS Annual Meeting: 245 members attended the November Annual Meeting in person, along with 70 online viewers.  Feedback from attendees was positive.  Karen Hyman (our keynoter) gave members much food for thought in making libraries a vital part of the community.
We outlined plans for next year, including the following four major efforts.
1. Implement a new statewide delivery contract.  As library delivery service volume continues to grow, the Autosort RFP Task Force is seeking a solution that will allow libraries to save time and energy in meeting patron needs.  The Task Force is comprised of 28 individuals from the MLS membership, automated network staff and directors, and MBLC representatives.
2. Relaunch BiblioTemps services.  The Central region initiated this innovative program years ago but we were compelled to drop the service after the regional consolidation to focus on our core services.  Next year we expect things to have settled down enough so MLS can devote the proper resources to bring it back to allow libraries to easily bring on temporary staff.
3.  MLS headquarters is moving.  We are seeking a location convenient to the highway near the intersection of the Mass. Pike and I-495.  We will also continue to maintain an office in western Massachusetts.
4. We will begin an ambitious planning effort in fy2012 with three main components, i.e., a strategic plan to set a five-year direction; a segmented marketing plan to ensure that we are providing appropriate services to all types and sizes of libraries all across Massachusetts; and a branding plan to make MLS known to all appropriate constituencies.
In closing, I would like to thank you all for your patience and understanding during our first few months.   All of the staff have been working very hard but we realize that we were not able to do as much as you needed.    And I know that many of you gave us time to get settled before you came to MLS with requests for service.  I ask you now to not be shy.   Let us know what you need.  Let us know how we can do better.   I can't promise that we can do everything you ask, but I do promise that we will listen.
Best Wishes to You and Yours for a Happy Holiday!
Greg