In support of the online summer reading program, ReadsinMA, MLS has worked with the MBLC to create a grant opportunity to help with training next year. The grant, called "Support for Summer Reading Online", is giving youth services librarians the opportunity to become a trainer for the online program.
A core team of 8 youth services librarians have been selected. Selection was highly competitive as all applications submitted were excellent! A "train the trainer" session was conducted today, February 10, by Advisors for Youth Services Sarah Sogigian and Susann Babb. Each of the 8 will be conducting a workshop in March and April for their fellow youth services librarians.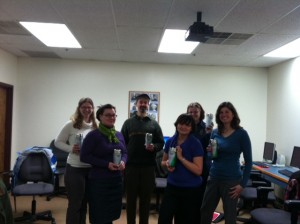 Pictured from left to right:
Christi Showman Farrar, Woburn Public Library; Heather Marchetta, Storres Library, Longmeadow; Guy Harris, Adams Street Branch, Boston Public Library; Jessica Lamarre, Pembroke Public Library; Sharon Martin, Shrewsbury Public Library; Noelle Couture, Tewksbury Public Library
(Not present: Kathy Mahoney and Janet Burke, Mashpee Public Library)
Libraries where the core team member works will each receive a $3,000 grant to be used for professional development of the youth services librarian and to improve their own summer reading program.
Susan and Sarah are excited by the enthusiasm, knowledge, and ability of the team! Workshops will be posted soon for registration.