Were you among the 2400+ participants in continuing education provided by MLS in its first three seasons?  Then you know – MLS has been everywhere and participants in continuing education hail from all over.  Take a look at this map of attendees by home library location.  The biggest dots show communities from which more than thirty participants came. Middle sized dots show 20 – 29 participants. The smallest dots represent one. (Click the map for a bigger image.)
Those 2400 participants attended 160+ events presented in 70 communities as shown on the map below.  The most-used facility was MLS-Whately, where sixteen workshops took place. Other dots show 5-10 sessions and 3-5 sessions. (Click the map for a bigger image.) Thanks to all the hosting libraries for their generous hospitality.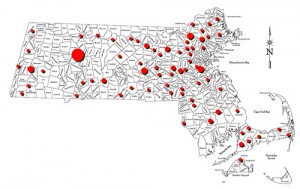 We've been in touch through advisory services, too.  MLS staff made more than 120 site visits and responded by phone or email to 1,560 questions from our members.  With your help and interest, MLS is working toward its potential.