Were you one of the 3,961 individuals from across the Commonwealth who attended an MLS CE event in fiscal year 2011? 469 of you attended virtually. Some virtual attendees used the Lynda.com software training or LYRASIS online training. We held the equivalent of one event for each working day last year and 3,492 members attended one of these 266 in-person training events.
I am pleased to present two graphics that show MLS's success at reaching members all across the Commonwealth. The first map illustrates the the number of attendees from 322 Massachusetts communities. The second graphic shows the 110 communities that hosted MLS CE events.
Thanks to all of the hosting libraries for the use of their meeting space and their help.  They made it possible for us to provide training locations throughout the state.
Please visit our online CE calendar to register for upcoming events.
We want to hear from you with suggestions for future continuing education events! We'll  do our best to respond, but be aware our resources are limited. Please contact Greg Pronevitz or Carolyn Noah with your ideas.
______________________________________________
MLS Attendees Map Printable Link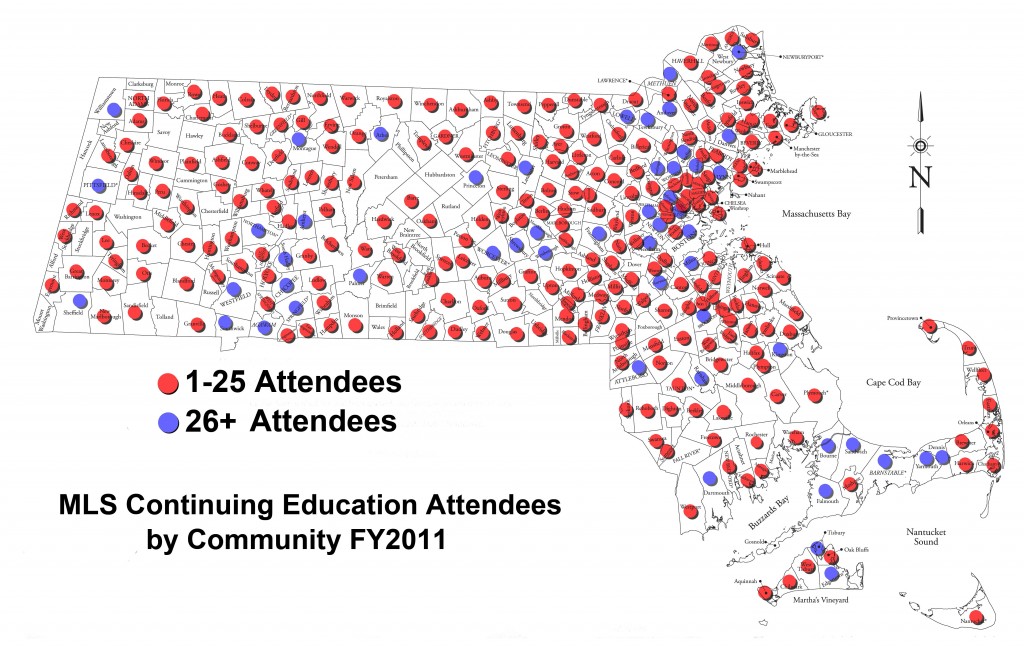 ______________________________________________