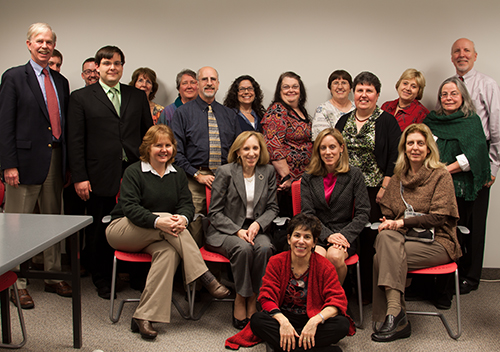 Eight New Members Joining MLS Executive Board
The membership elected eight new Executive Board members at November's Annual Meeting in Worcester. An orientation was held at MLS-Marlborough prior to the monthly meeting on December 5th.
MLS extends a warm welcome to new Executive Board members:
William L. Adamczyk, Thomas Crane Public Library (Quincy)
Charlotte Canelli, Morrill Memorial Library (Norwood)
Tim Gerolami, Cape Cod Community College
Barb Lichtman, Melrose High School
Margo Malachowski, Baystate Medical Center
Andrea S. Taupier, Springfield College, Babson Library
Suzanne Wargo, Millbury High School
Sarah Watkins, USS Constitution Museum
Five members cycled off at this meeting and two additional members past members deserve recognition. A special thanks goes to these professionals who worked so hard to get MLS off the ground!
Sal Genovese, Walpole Public Library (former President)
Donna Beales, Lowell General Hospital
Pat Cirone, Beverly Public Library
Karen Davidson-Heller, Malden Catholic High School
Deborah Lang Froggatt, Fenway High School
Sue Marsh, National Fire Protection Library (Personnel Committee Chair)
Eric Poulin, Greenfield Community College
Mike Somers, Bridgewater State University (Nominating Committee Chair)
Continuing members:
Dianna Magnoni, Olin College Library (President)
Patrick Marshall, Jonathan Bourne Public Library (Vice President)
Betty Johnson, Griswold Memorial Library (Colrain) (Secretary)
Jean Maguire, New England Historic Genealogical Society (Treasurer)
Deborah Kelsey, Medfield Memorial Library (outgoing Treasurer)
Victoria M. Biancolo, Miss Hall's School (Pittsfield)
Jim Douglas, Nichols College Library
Ex Officio (non-voting) members:
Rob Maier, Massachusetts Board of Library Commissioners
Michael Colford, Boston Public Library (Library for the Commonwealth)
Greg Pronevitz, MLS Executive Director
Full Executive Board Roster: Click
Member Eligibility Process To Be Launched For School Libraries
The Board established a policy and process for the verification of MLS member eligibility. Membership and directory information will be verified on a rolling basis beginning in January 2012 with school library members. During the process, members will be contacted using the information provided in the MBLC's library directory and updates will be invited. Staff will be asked to provide information showing that their institutions are eligible for membership. If they do not respond, another contact will be made. After a second unsuccessful attempt, libraries will be notified that their memberships are in jeopardy and invited to appear before the MLS Executive Board at a specific date, time and place to discuss remedies. If no remedy is at hand, the MLS board will vote to remove the library from membership. If a library is removed from membership, the library is welcome to apply for membership at any time that the library meets MLS membership requirements.
The MLS school library membership removal policy is available at: https://masslibsystem.org/about/mls-membership/.
Ill Policy Approved
MLS's new mediated ILL policy encourages open and free sharing of resources among all MLS members and describes borrowing privileges and lending responsibilities. It sets out a vision for resource sharing:
• "MLS members participate in ILL on a reciprocal basis for all permitted library materials, including online content."
• "MLS provides ILL services in an efficient manner balancing the workload and costs among MLS, borrowers, and lenders appropriately."
MLS ILL center staff contributed to the development of the policy with input from the ILL task force. It is available on our website at https://masslibsystem.org/ill-information/.