Member Satisfaction is High:  2013 Survey Results
I am pleased to report that members are satisfied with almost all MLS services (see chart below).   Thanks to you (over 400) members who responded!  The vast majority of members responding rated their satisfaction with MLS services at the midpoint or higher with a rating near 90% or above.  These levels of satisfaction were very similar across the Commonwealth and in responses from all library types.  Many of you commented positively about MLS and MLS team members.  We appreciate your comments.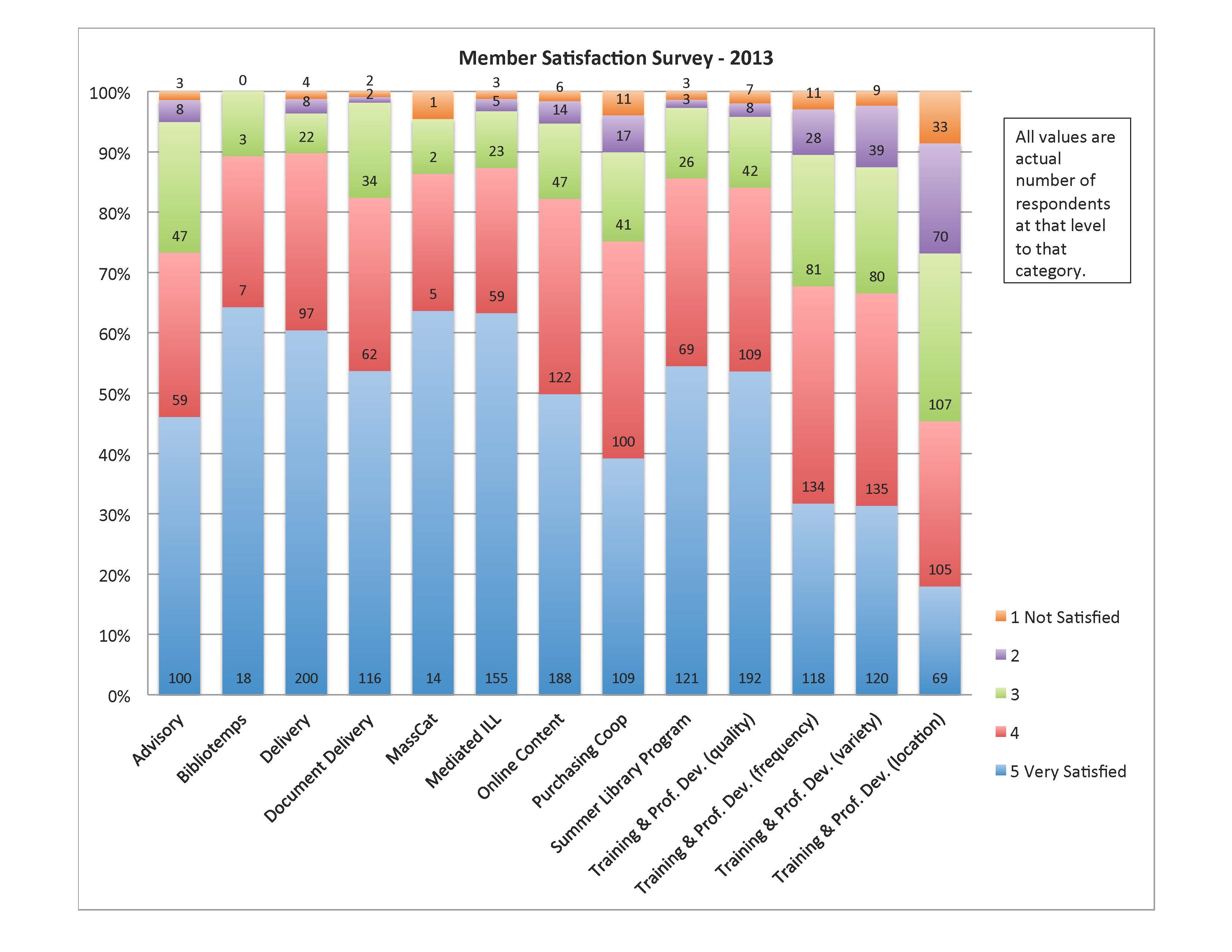 Room for Improvement
We also need to hear your constructive criticism.  We found that the area with the greatest room for improvement is the location of training and professional development events (see chart above).  As with the positive results this need was expressed statewide across library types with few exceptions. We attribute this to the fact that the MLS budget for continuing education is 61% lower than the combined budgets of our predecessor organizations.  The MLS Advisory Team schedules events where they are most needed, often in response to a specific member request.  We are also working to expand the availability of online events to reach a wider audience.  Last year MLS hosted 29 webinars.  This year, 40 webinars have already been hosted.

A number of school librarians commented about the desirability of training after hours.  At the request of school librarians, MLS is focused on the development of robust multi-session-in service days. Librarians are welcome to attend an entire day or select the late afternoon content.  We schedule these events in conjunction with a local library host and Massachusetts School Library Association.   A fall round of these events is in the planning.
A number of librarians commented about difficulty in navigation for MHEC and the fact that costs are higher and now they pay shipping and handling.  MHEC and MLS are providing training opportunities to provide education and help with navigation of the new contracts. MHEC and MLS staff members are available to answer questions or concerns. Both organizations are working to address concerns as they are brought to our attention. Additional information, including contact information, is available on the Coop FAQ.
We are contacting members who had specific issues with services and members who seemed the most dissatisfied.  We will do our best to address their concerns.
Importance of Services to Members
Delivery, online content, and training & professional development were ranked as the three most important services in the overall response.  This was true in all geographic areas with one exception.  In Metrowest document delivery was rated third most important, just a small percentage higher than delivery.  Special libraries also ranked document delivery as third most important.  School libraries ranked the purchasing cooperative as third most important.  The proportion of schools that use delivery is very small.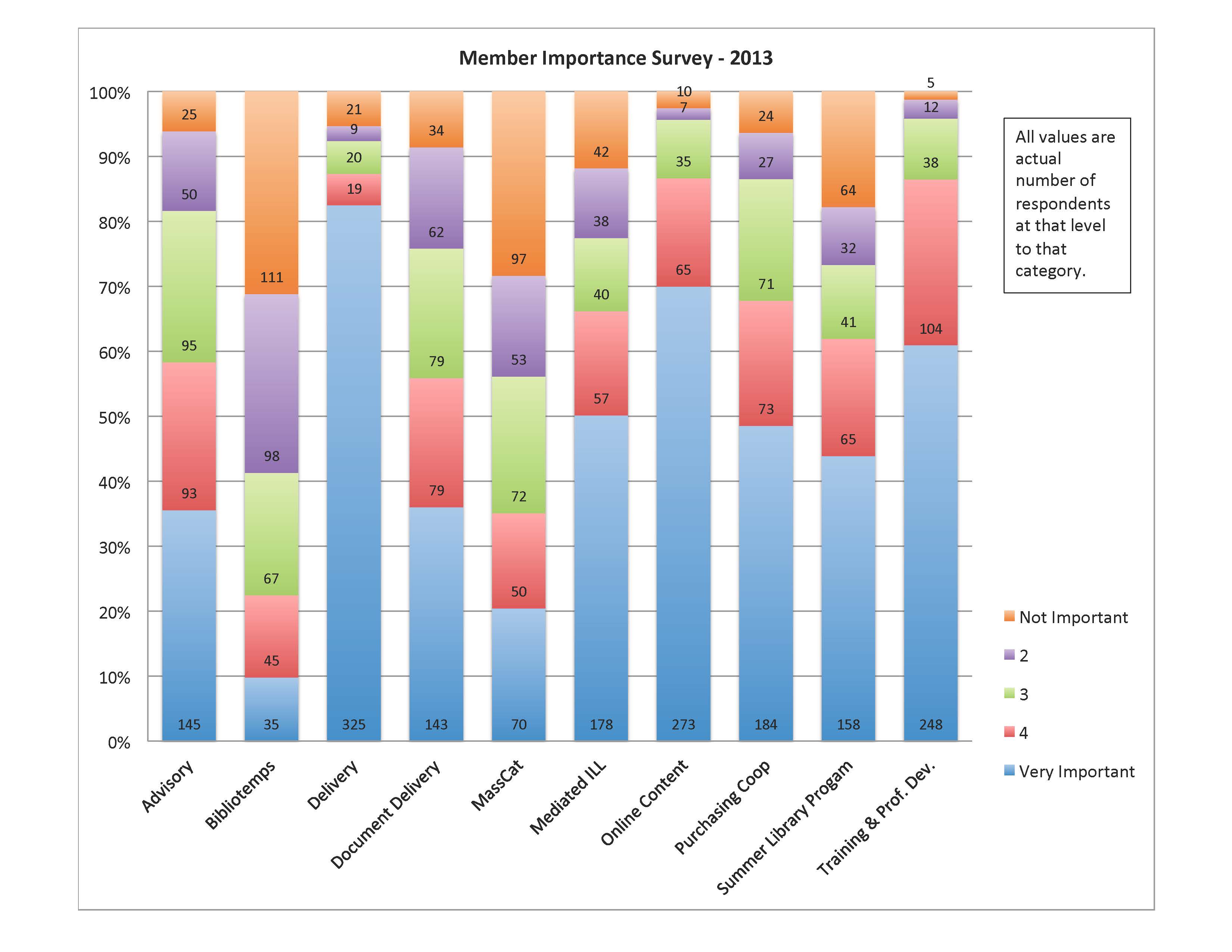 Member Familiarity with Services
Delivery, online content, and training & professional development were the three most familiar services to members.  The areas where we will focus publicity in the near future are purchasing cooperatives with school libraries; online content with small public libraries; and MassCat with non-networked libraries.   Many respondents were not familiar with all MLS services because they are busy with own day to day responsibilities that do not touch on some services.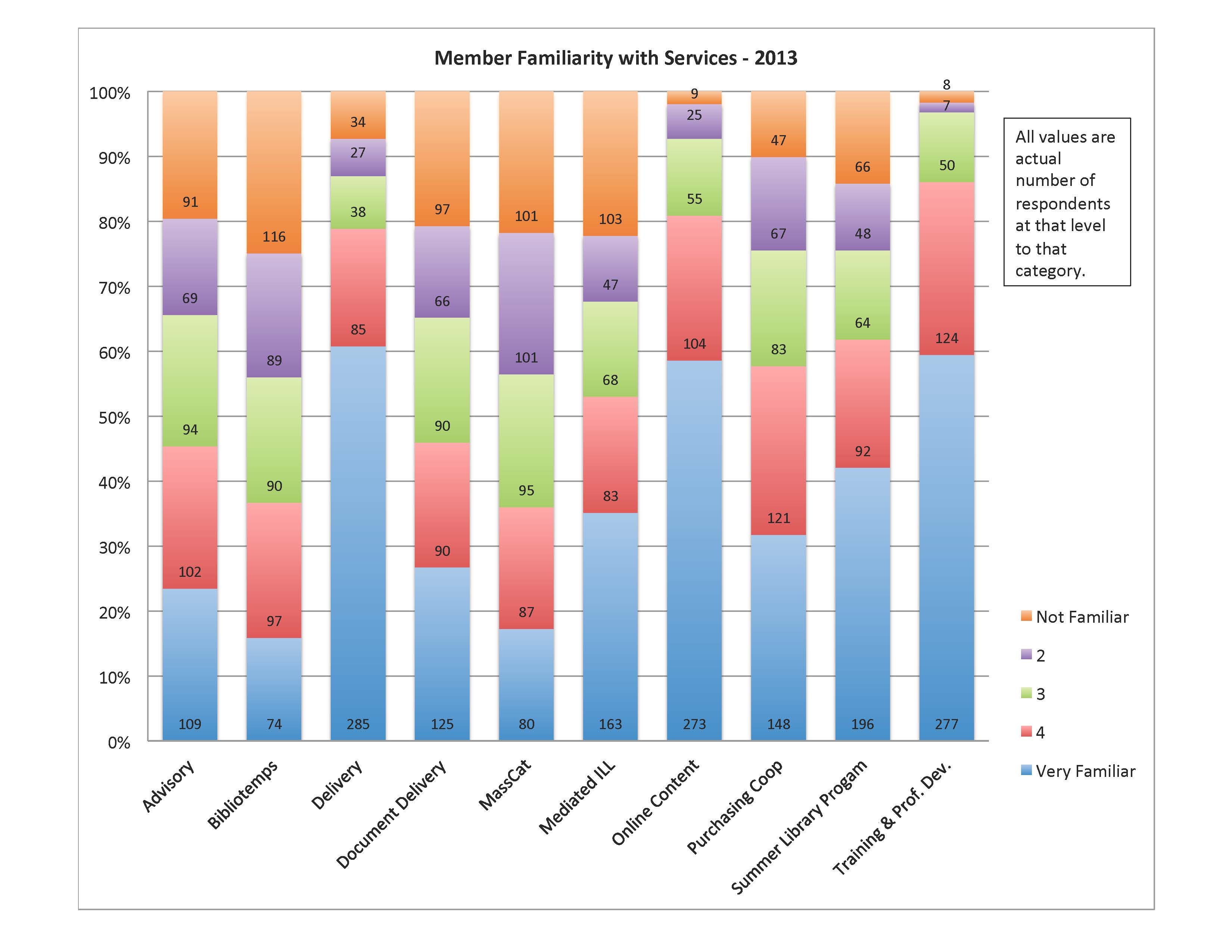 Responses by Library Type and Location
These charts are based on 471 responses.  By type the breakdown was 290 public; 85 school; 61 academic; 25 special; and 10 unreported libraries.   This does not accurately reflect member composition which comprises 371 public; about 953 school; 239 special; and 126 academic libraries.  However, it is typical that public library staff respond in the highest proportion to such surveys.  Geographic distribution was in keeping with our membership's distribution.  A complete set of charts based on library type and location is available.  Please contact MLS if you have any questions.