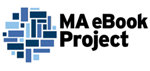 It is with great pleasure that we are announcing the official launch of the MA eBook Project.  There was a Launch Party last Thursday, November 21 at the Leominster Public Library to celebrate.  During this event, there were welcoming and congratulatory remarks, followed by a demonstration of the MA eBook Project Catalog, as well as the two eBook platforms, BiblioBoard Library and Baker & Taylor's Axis 360.
This begins the first phase of the six-month pilot project and almost all of the 51 pilot libraries are set-up and ready to train and promote this project to their staff, patrons and other stakeholders.
We will continue to update you through the MA eBook Project Blog and the Resource Guide for eBooks over the next six months.
Here is the link to the official Press Release being sent to library and other media outlets. MA eBook Project Press Release