DPLAfest 2015 – Indianapolis
The Digital Public Library of America held its second festival/birthday party in Indianapolis on April 16-17, 2015. I attended, in a large part, to join two days of important discussions about eBooks and libraries (more on this below).
MLS Member Leaders at DPLA
Amy Ryan, President of the Boston Public Library, was appointed as DPLA Board chair, beginning in July. Ryan has over 35 years of public library experience. Before being named to lead the BPL, she was the director of the nationally recognized Hennepin County Library in Minnesota. Ryan will succeed current chair, John Palfrey, Head of School at Phillips Academy in Andover. Palfrey has been a central figure in DPLA's history.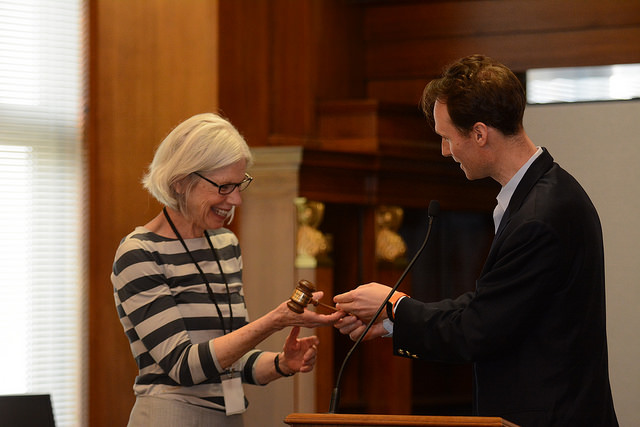 Content Milestones at DPLA
On the second anniversary of its launch, the Digital Public Library of America surpassed a remarkable 10,000,000 items in its aggregated collection of openly available books, photographs, maps, artworks, manuscripts, audio, video, and material culture. This represents a quadrupling of the original collection at launch, which stood at 2.4 million items. DPLA now has 1,600 contributing institutions from across the country. In April 2013 there were just 500 contributing institutions when DPLA was founded.
This tremendous growth can be attributed, in part, partners whose collections are newly available this week, including Empire State Digital Network and the California Digital Library and the Minnesota Digital Library. About 160 Massachusetts libraries are represented in DPLA through the work of the joint efforts of the Digital Commonwealth and the Library for the Commonwealth/Boston Public Library.
eBook Activities
Sloan Foundation-funded Work on eBooks
DPLAfest marked a key moment in the Digital Public Library of America's work on improving access to eBooks. Generously funded by the Alfred P. Sloan Foundation, dozens of librarians, authors, publishers, and readers gathered in Indianapolis to discuss the current landscape of this complex area that is challenging libraries. Our goals were to identify community leaders, scalable infrastructure, and avenues of participation that have the potential to transform libraries' and librarians' contributions and roles.
Two days of sessions were led by DPLA's Dan Cohen, Executive Director and Rachel Frick, Business Development Director and Micah May, New York Public Library's (NYPL) Director of Business Development leading to decisions on next steps as a framework for a possible demonstration effort, as well as a means to unite strong contributors more closely in the space towards a common goal.
How do we build a build a national platform for eBook acquisition, discovery, and access?
I was pleased to work with leaders of other statewide consortial eBook efforts and dozens of others to outline directions to explore the potential to address the guiding question above. Other statewide projects represented were: Arizona, California, Colorado, Connecticut, Illinois, Minnesota, and North Carolina as well as NYPL leaders who recently submitted an important grant proposal to IMLS to enhance access to eBooks.
Working groups were formed to address follow up topics such as use cases for all types of libraries; publisher relations and to look at the support/participation role of consortial partners. MLS will remain actively involved in these activities directly and through our participation in the ALA, ASCLA Consortial eBook Interest Group, the Power of Libraries, and partnership activities in NYPL's LEAP (Library E-Content Access Project) grant proposal.
Collaboration with HathiTrust for Open Ebooks
In a related development, the Digital Public Library of America and HathiTrust plan to highlight how they will work together to help exciting new initiatives that open up access to books. The Humanities Open Book grant program, a joint initiative of the National Endowment for the Humanities and the Andrew W. Mellon Foundation, for instance, will award grants to publishers to identify select previously published books and acquire the appropriate rights to produce an open access ebook edition available under a Creative Commons license. Participants in the program must deposit an EPUB version of the book in a trusted preservation service to ensure future access. DPLA and HathiTrust are well-prepared to accept these books and provide a wider distribution point for them.
Please contact me if you have any questions.
Greg Pronevitz,
Executive Director
508-357-2121 x303