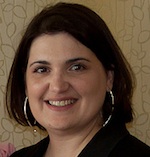 I am pleased to announce that Sarah Sogigian will take on new responsibilities as Training and Advisory Services Director beginning May 1, 2015.  Sarah's appointment follows a lengthy nationwide search and selection process.
In this new role, Sarah will join MLS's leadership team with responsibility for MLS's statewide training, advisory, and related services to members.
Sarah has been with MLS since our founding.  She also had previous experience since 2007 with the Metrowest Massachusetts Regional Library System.  Her previous experience with youth services, and many years hosting teen summits and managing the hugely successful Massachusetts summer library programs with our partners at MBLC and library colleagues are among her accomplishments.
Her contact information remains the same:  sarah@masslibsystem.org and 866-627-7228 x311.
Please join me in congratulating Sarah in her new role at MLS!
Greg Pronevitz,
Executive Director