I am quite pleased to share the results of MLS' satisfaction surveys, which were issued in February asking members how satisfied they are with MLS 11 service areas. In most cases positive responses exceeded 85 percent of response, i.e., 3-5 out of 5, with 5 being very satisfied. MLS staff members are reviewing the results and comments in order to address issues raised by members to strive for strong member satisfaction.
Thanks to the more than 1,200 individuals who responded to these surveys. We employed a new approach this year by sending surveys only to the libraries that use the service in question (with the exception of statewide databases which as distributed very widely).  The survey results will be included in the information provided to the Strategic Planning Committee for consideration as we develop a strategic plan of 2017-2019.
I would like to point out the extremely high percentage of "very satisfied" ratings indicated in the areas of advisory services, mediated ILL, and the document delivery service. MLS provides advisory and ILL services. The Boston Public Library provides document delivery services under a contract with MLS. Hats off to all of these folks!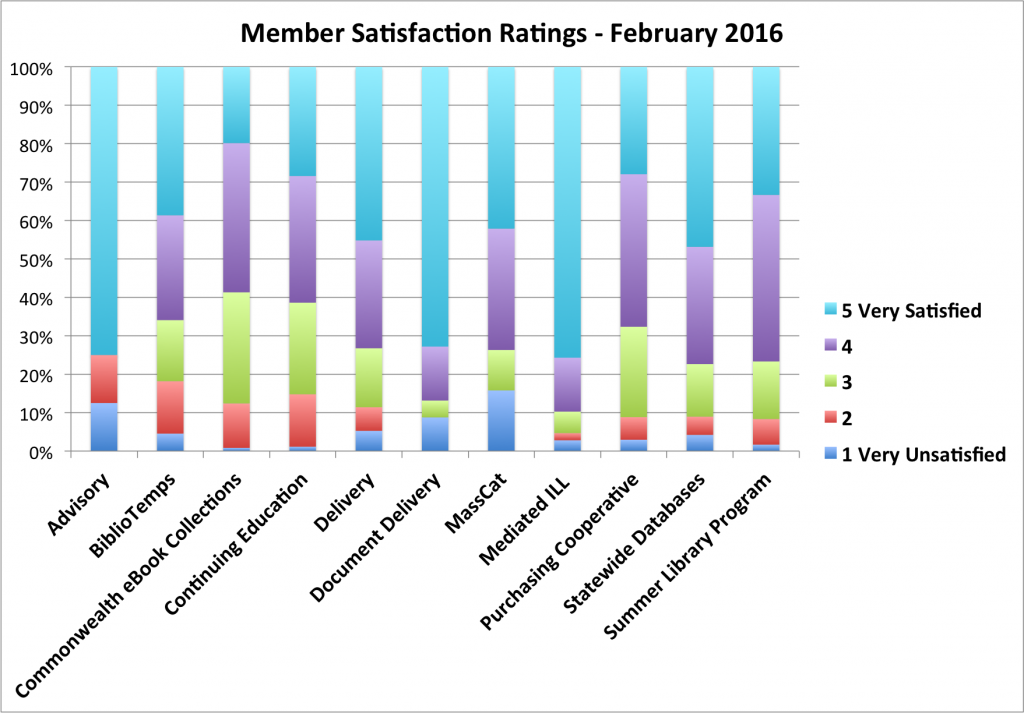 We asked members how these services compared to last year. I am happy to report that the Commonwealth eBook Collections service, which as grown from 50 to 450 participants over the past year or so, was clearly the most improved. We attribute this to technology improvements provided by vendors at our request including Baker & Taylor's Axis 360 and the BiblioBoard platform. Advisory, Document Delivery, MassCat, and Mediated ILL all showed improvement of 30% or more. On the flip side, we are examining responses that indicated a downturn in satisfaction to address all possible issues