We are pleased to bring you the first in a series of Massachusetts library community engagement success stories. Miki Wolfe, the Sharon Public Library's Info Services/ Assistant Library Director shares her experience with a technology partnership with the Sharon Adult Center.
Tell us about your community partnership.  
About two years ago, we decided to run a weekly technology program here at the Sharon Public Library. During a visit, the Sharon Adult Center caught my eye as a possible secondary location for computer classes. They'd recently upgraded their computers and were looking to market the new computer space to their community. And, as they had recently decided to do programming separately from the Senior Center (although they are in the same location), it seemed like a good place with a solid base of patrons already in place.
I connected with the Adult Programming Coordinator, and we agreed to start a partnership. At first, there was discussion about doing separate classes at the Adult Center and at the Library, but we decided it would be too confusing for people in the community (what class, where?), so we opted to go with one class, repeated a second time for people who weren't able to make the first one. Our Tech Connect program runs on a Tuesday morning at the library, and the following Wednesday at the Adult Center. Patrons can sign up for either program, and sometimes we have people who sign up for both, so they get a chance to repeat the class, and cement their learning.
How did you connect with your community partner?
 As I was new to the library, and new to the community, I headed over to the local Adult Center to meet everyone, and offer our library services to anyone who might be interested. As a librarian, it's important to go where your potential patrons are, instead of relying on them to come to you. At the Adult Center, the Programming Coordinator explained they had recently upgraded their computer room, and wanted to make more people in the community aware of what they had to offer. I like teaching classes, and had some experience at other libraries teaching technology classes, so I immediately offered to run a series of tech classes. And so, TechConnect was born… now there are two of us (myself and our Information Services Librarian Hilary Umbreit) who teach the classes each week.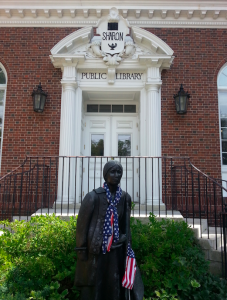 How did the collaboration benefit your library and your community partner?
The library was able to exponentially increase its program exposure, which was especially key, as there was no technology programming offered at the library prior to this. We were also able to utilize the robust newsletter list from the Sharon Adult Center, which made getting the word out about our programs much easier. And by advertising drop-in tech tutoring at the library at all the programs, we encouraged patrons to actually visit the library too.
The Adult Center is able to offer a rotating list of programs for its members, and having them on-site means they don't have to worry about travel. Some members are able to use the transportation systems offered by the Adult Center, as they don't drive themselves. The Center also gets to save money, as I don't charge for these classes, unlike other presenters who offer programs there. And, it means that the Tech Center they advocated for is getting more use, as people attend the classes, and learn about the software available there.
Technology is advancing at an ever more rapid pace, and people get overwhelmed. It's helpful to have people who can explain pieces of it (and I'm by no means a tech expert. I'm better at teaching than technology.) By marketing the library as a resource for tech questions, we've increased the number of people who call, email, and visit the library for help. And they now view the library as more than just a place to get books and movies; they can get tech questions answered too, which raises our impact and value to the community.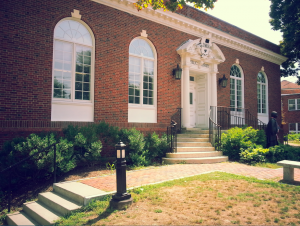 What impact did the partnership make in your community?
People are able to access a variety of tech programming, at their convenience rather than at a set time. By doing multiple classes, we are able to reach a much wider audience. A lot of people have questions about technology, but there might not be anywhere to turn, and many people feel embarrassed asking friends or family members for help. The library is a perfect place for them to come and ask questions, so that the phone they just bought doesn't turn out to be an expensive brick. By offering both 45-minute classes on a variety of topics, and encouraging patrons to make tech appointments for further lessons, we're helping further the learning goals of our community.
What advice would you give to a librarian interested to cultivate a similar partnership?
Don't be intimidated about the logistics behind setting up a series of tech programs. There are a number of libraries out there (Denver Public Library and  the New York Public Library, among others) who have class outlines and handouts published online. Also, the MLS Consultants are an amazing resource, and can direct you to any number of helpful resources.
Once you have the nuts and bolts of your program set solid, look around for a partner who might complement your offerings in some way. For us, it was finding a partner that had just completed a tech upgrade and needed a trainer to teach classes. So it's a mutually beneficial relationship, and one we hope to continue in the coming years.
~ Interview with Mikaela Wolfe, the Sharon Public Library's Info Services/ Assistant Library Director. Mikaela Wolfe is also a 2016 alumni of the MA Library System program Project SET: Skills, Empowerment, and Talent.