This week's MLS Member Community Engagement Success Story features an interview with Carol Jankowski, Director of the Duxbury Free Library.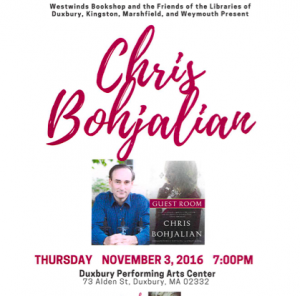 Tell us about your community partnership.
Though we have presented many authors at the Duxbury Free Library, this particular collaborative event involved four communities and libraries, in addition to the oldest independent bookstore on the South Shore, Westwinds Bookshop! Weymouth, Marshfield, Kingston and Duxbury joined forces to present international superstar Chris Bohjalian at our lovely Performing Arts Center. The Friends of the Libraries hosted the event, and raised a little money, though that was not the main intent. The Duxbury Free Library's goal for this event was to celebrate reading, stimulate interest in books and libraries, and support the creative efforts of all writers. This collaboration was the third such multi-town, multi-library event. Other authors who have participated were Anita Diamant and Alice Hoffman. Our senior center was also a community partner, advertising the event and encouraging folks to discuss the book prior to the event. Dozens of local book groups took part as well!
How did you connect with your community partners?
Every library staff member is encouraged to "take it on the road" wherever and whenever. We have worked hard over the years on establishing excellent working relationships with the schools, senior center, the historical and art organizations and business groups as well. We are often embedded in those groups so we support each other's missions and goals.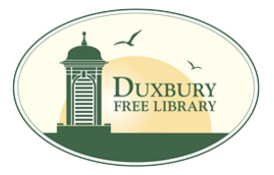 How did the collaboration benefit your library and your community partners?
By being able to build a very substantial audience, we can entice world class authors to come to our community! These are rock stars to our readers. These experiences support the notion that books change and enhance our lives. This experience also introduces folks to the notion that local community bookstores are great places of business to support.
What impact did the partnership make in your community?
We are a literary destination!
What advice would you give to a librarian interested to cultivate a similar partnership?
Reach out. Go to lunch with the Senior Center Director. Make a coffee date with the Executive Director of your local Historical Society. Ask those groups to come to the library and make a presentation. Start small. Think big! Look at the Massachusetts Center for the Book website and contact the winning authors. Getting a local author is always easier. See if your local high school would allow you to use their auditorium. Seems like a lot of details, but once done, it can easily be repeated. Everybody wins, when everybody reads!
~ Interview with Carol Jankowski, Director, Duxbury Free Library
Previously in the Community Engagement Blog