MLS reached out to William (Ted) Albers, USCIS Northeast Regional Community Relations Officer, to connect our membership with the latest information from the US Citizenship and Immigration Services about how your library can support immigrants and refugees. Ted will present a webinar for MLS members on Tuesday, July 25, 2017 at 10:30 AM. We hope you can attend to learn more. Register now! Here's an interview with Ted to give you a preview of what he will share in more detail on July 25th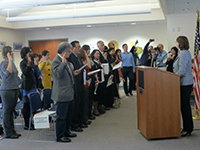 Tell us about the USCIS.
U.S. Citizenship and Immigration Services (USCIS) is the government agency that oversees lawful immigration to the United States. We are a branch of the Department of Homeland Security.
We process naturalization, which is how a person not born in the U.S. voluntarily becomes a U.S. citizen;
We grant permanent residence ('green card') status;
We process refugee applications around the world and grant asylum to people already in the U.S.;
We process petitions filed by employers to bring workers to the U.S.;
We verify the employment eligibility of new hires in the U.S. (Form I-9);
We help American parents adopt foreign-born orphans
What kind of support does the USCIS provide for libraries?
Libraries play a critical role in serving immigrant communities. Through our coordination with libraries we help to educate librarians, and in turn their immigrant patrons, primarily about the citizenship process but also topics such as finding reliable immigration services, and avoiding scams. Whenever possible, we also visit libraries who want to host us for citizenship and immigration-benefits information sessions.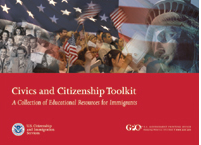 What is a Citizenship Corner?
This is a dedicated space in you're a where immigrants can find information about becoming a U.S. citizen. USCIS has developed educational materials to help prepare individuals for naturalization. These materials are ideal for setting up a Citizenship Corner. A typical Corner includes citizenship test preparation materials along with information about the naturalization process. Libraries can also add information about community resources, English teaching materials, and other relevant books and videos from their collections. While there are a number of immigration related topics that may be of interest to libraries and their customers, USCIS recommends displaying only citizenship and naturalization-related resources in the Citizenship Corner. Explore the USCIS/IMLS Library Partnership and learn what you library can do.
Please tell us about a couple libraries with outstanding Citizenship Corners.
The American Place (TAP) is a free program of Hartford Public Library designed to welcome immigrants and ease their transition into their new home city. TAP promotes Hartford's shared civic values.
Services at TAP or library services include ESL classes, free citizenship classes and Volunteer Cultural Navigators where volunteers offer mentoring and tutoring to new immigrant. HPL was the 1st library in the country to provide legal immigration advice: and recognized by the Department of Justice to provide legal advice and representation by accredited staff before USCIS. In Massachusetts, each of Boston's 24 neighborhood branches have a citizenship corner , and USCIS information staff are present for scheduled 'drop-in' hours at five of them that serve especially high-immigrant rich populations.
Anything else you would like to share with our members?
Libraries of any size can start by ordering a free USCIS Civics and Citizenship Toolkit
The Toolkit It is designed for new and experienced organizations and may be used to provide basic information to the immigrant community; develop content for classes and train staff and volunteers.
Questions can be directed to: william.e.albers@uscis.dhs.gov