Thank you to Maria McCauley, Director of Libraries of the Cambridge Public Library, for sharing her library's experience with creating a declaration of inclusion.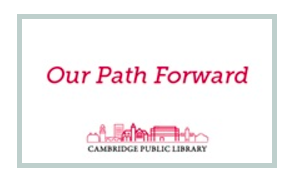 What generated your declaration of inclusion?
Cambridge residents, library patrons and library staff were all talking about the Presidential election process and results and what this might mean for the country. We got the sense that people wanted and needed a place to explore, discuss and learn more about current issues, especially as they related to CPL's core mission of serving everyone and promoting an inclusive environment and upholding the values of Cambridge as a Sanctuary City.
What process did you use to create, publish, and publicize your declaration?
The idea was discussed at a Library Trustees board meeting and the Library Director, Maria McCauley and Chairperson of the Board of Trustees, Janet Axelrod decided to co-author our statement. We also got input from several staff and stakeholders.
How did your community respond to your declaration of inclusion?
We continue to hear positive feedback from the public about our letter to the community. It was shared on social media and our related programs have been full houses. The recording of our kick off panel, "We the People: Local Voices Ask What Next?" has been viewed over 1300 times." Additionally, it is a point of pride for staff.
What advice would you give to a library considering making a declaration of inclusion?
Don't hesitate, rally, and be inclusive.
Anything else you would like to share?
We have been able to curate a popular and meaningful "Our Path Forward Series" based on the original declaration. It has brought community members together to learn, share, and reflect.
Interview with Maria McCauley, Director of Libraries, Cambridge Public Library
Learn more about upcoming Cambridge Public Library Our Path Forward Events