Thank you to Lisa Downing, Director of the Forbes Library, for sharing her library's experience with creating a declaration of inclusion.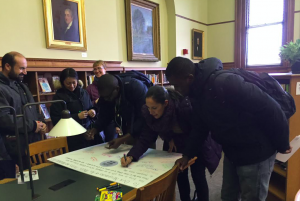 What generated your declaration of inclusion?
We were inspired by the Jones Library in Amherst who shared a picture of a declaration they posted in connection with their ESL & Citizenship Center. It felt important for us to do and in keeping with a campaign slogan the library had developed a couple of years ago called "Forbes For All". It was used for a fundraising campaign for a handicap accessible elevator project and summarized our intention that the library is for everyone. We kept the slogan after the campaign ended because it speaks to who we are as an institution and the vision we have to be a safe, welcoming and enriching place for everyone in the community.
What process did you use to create, publish, and publicize your declaration?
We used an oversized piece of foam core and hand wrote a statement along the top declaring our inclusion. We invited staff, trustees and friends to sign it. Shortly after it was published we had a visiting class from the nearby International Language Institute who noticed the sign. Their teacher mentioned that they were happy to see it because many of them were fearful about their reception in the US after hearing the news of the President's stance and coverage of gun violence. We invited the students to write the word "welcome" in their native language along with their name and this completed the sign. We have the sign posted in the front lobby where hundreds of people walk by every day. We have also taken pictures of it and shared it on social media and provided a printed copy to our legislators and city council.
How did your community respond to your declaration of inclusion?
We have received many compliments about the sign. People in our community are pleased that we are publicly stating our commitment to inclusion. There have been a couple of complaints as well, from people who feel the sign is overtly political in nature and is intended to take a stance on immigration policy. These have been opportunities to engage in civic discourse.
What advice would you give to a library considering making a declaration of inclusion?
We sought the approval and support of our trustees before posting it. We also talked openly with the staff about how this is in keeping with our "Forbes For All" mission and why it is important to do.
Interview with Lisa Downing, Director of the Forbes Library, Northampton