Thank you to Jennifer McGeorge, Assistant Director of the Peabody Institute Library in Danvers, for sharing her library's experience with creating a declaration of inclusion.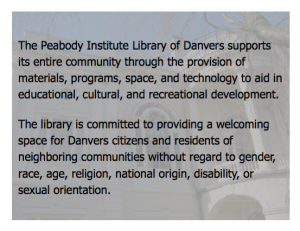 What generated your declaration of inclusion?
Patron request. This person demanded we post a politically sponsored sign protesting the building of a border wall and its impact on different ethnic groups. Despite the fact that we cannot post any opinion on the matter, they felt that our refusal post their sign indicated our support of the border wall project.
What process did you use to create, publish, and publicize your declaration?
After posting a request to all regions, several libraries shared their ideas for promoting inclusion. We adapted their ideas/language (mostly from Stevens Memorial Library in Ashburnham) and posted the following at both the main and Children's Room entrances:
The Peabody Institute Library of Danvers supports its entire community through the provision of materials, programs, space, and technology to aid in educational, cultural, and recreational development. The library is committed to providing a welcoming space for Danvers citizens and residents of neighboring communities without regard to gender, race, age, religion, national origin, disability, or sexual orientation.
How did your community respond to your declaration of inclusion? No response.
What advice would you give to a library considering making a declaration of inclusion? Looking back, I wonder why we never bothered to post such a welcome in the first place as this is part of our mission. I suspect, posting it has probably answered a few questions for folks who were not poised to ask. It's prompted me to re-examine our approach in other areas to ensure our practices meet the current needs of our community.
Interview with Jennifer McGeorge, Assistant Director, Peabody Institute Library in Danvers