This week, the MLS Community Engagement Blog features four stories of public libraries in Massachusetts demonstrating their commitment to social justice by creating declarations of inclusion. Our first story features an interview with Cathy Piantigini, Deputy Director of Libraries, at the Somerville Public Library. Make sure to also read the experiences of the Cambridge Public Library, Forbes Library, and Peabody Institute Library. Thank you to Cathy Piantigini, Maura McCauley, Lisa Downing, and Jennifer McGeorge for sharing their experiences!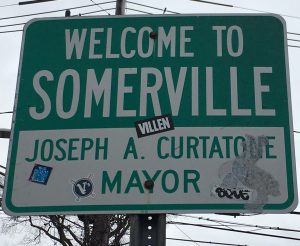 What generated your declaration of inclusion?
As a resident librarian of Somerville, I was acutely aware of the importance of highlighting the role our public libraries play in the daily lives of all of our patrons post-election 2016, when there were so many reports of people feeling unsafe and insecure going about their day-to-day. Somerville is very proud of its Sanctuary City status, and our Mayor is leading that pride, creating a municipal infrastructure to promote inclusion and tolerance, including organizing a rally in early February that highlighted the diversity of the city through guest speakers including ESL students from Somerville High, immigrant parents and business leaders; and community groups and agencies throughout Somerville that work with immigrant populations. He has also been featured in various media coverage about sanctuary cities. It was, and is, an important time for the library to be a part of the conversation.  
What process did you use to create, publish, and publicize your declaration?
Library staff were ask to create a list of resources that included materials available in our collections, including print and electronic resources; Internet resources; local area services; and Massachusetts law websites. Our reference department gathered all of the information and created the content, including the affirmation of the public library as a source of enrichment and support for all, that was added as a dedicated page on the library's website, accessible under the main heading 'Library & Community'.
How did your community respond to your declaration of inclusion?
Once the link was up and running, we promoted it through Facebook, and the original post was shared 19 times, liked/loved over 150 times, and reached over 4,800 people – the best response we can recall for a Facebook post. From people I've spoken with around the city, the response was overwhelmingly positive.
What advice would you give to a library considering making a declaration of inclusion?
I'd recommend assessing the services currently being offered w/in the library as a first step: is the library's collection of resources for the public up-to-date? Are there multiple copies of print materials to help with ease of access? Can you identify programs being offered at the library that can help patrons in need, like ESL classes, one-on-one technology instruction, providing assistance for patrons navigating online applications, etc. Are there procedures in place for these services that protect patron privacy?
I also think it's good to work collaboratively, both within the library and throughout a community. More engagement leads to more opportunities for inspiration, ideas, and support.
Interview with Cathy Piantigini, Deputy Director of Libraries, Somerville Public Library