In this interview, Kelly McManus, the Library Media Specialist at the Groton Dunstable Regional High School, shares her experience with coordinating an evening of TED talks at her high school. The tagline for TedTalks is "ideas worth spreading." This collaboration is an idea worth spreading!  Maybe you would like to replicate this partnership with your library community?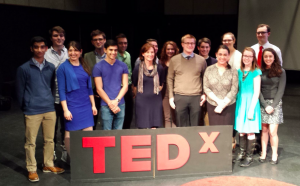 Tell us about your community partnership. 
As you may know, TED is an annual conference that brings together the world's leading thinkers and doers to share ideas.  These short, thought provoking talks are engaging, inspiring and powerful. In that same spirit, TEDx is a local, self-organized event that brings together people to share a TED like experience.  Groton Dunstable Regional High School students just recently ran their second TEDxYouth@GDRHS: an evening event open to the public that includes short talks, art, live music, thoughtful discussion and light refreshments.  
How did you connect with your community partner(s)?
Each year, we select a theme and the students apply for a license from TEDx, interview and select speakers, curate a program and plan every last detail.  We connect with our community (in and outside of the high school) in many ways: from soliciting speakers, collaborators and volunteers to engaging with our attendees the night of the event.
How did the collaboration benefit your library and your community partner?
I'm drawn to the role libraries play in inspiring people, providing the resources and helping them make connections to pursue their passions. I'm also drawn to the idea of cultivating community through the creation and sharing of ideas. TEDx does all of this. My role, is to mentor, support and champion our students to plan and implement a complicated large event that if pulled off successfully will feel like an intimate dinner party where the guests interact  and leave feeling inspired. Our students' confidence grows through consistent positive interactions and it's really rewarding to be part of that.  I'm consistently amazed at their professionalism, care, talent and dedication. 
What impact did the partnership make in your community?   
I especially love the collegiality between the adults and students to create something bigger than any one person, and in many cases, where the traditional roles of authority between students and adults are reversed.  There are a lot of pieces in motion that need to come together and our small committee of students manages all of it. Dozens of teachers, staff and students volunteer their time and expertise to help with coaching speakers, lighting, video recording and editing, tech support, creating and displaying art, playing music, etc.  There is an opportunity for so many to be involved.
What advice would you give to a librarian interested to cultivate a similar partnership?
Trust your teens to rise up to the challenge. Look ahead and keep an eye on the big picture so that you can provide guidance and redirection if necessary, but avoid the temptation to step in and take over.  Instead, be a good listener; provide lots of support, reassurance and have an unwavering confidence in their abilities.
Interview with Kelly McManus, Library Media Specialist at the Groton Dunstable Regional High School
Twitter: @mcmanuskelly