We are living in an increasingly critical time to nurture our future generation's love of nature and create an urgency for families to support efforts to protect our natural world.  The Athol Public Library's "Book it to the Woods" partnership is an outstanding example of a public library fostering children's and families' respect for the earth and enjoyment of nature through collaboration with a conservation trust and a family center. Thank you to Angela Dumas, Children's Librarian at the Athol Public Library, for sharing her experience with this successful community engagement project!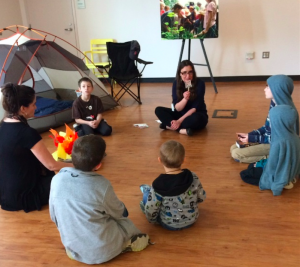 Tell us about your community partnership.
The Athol Public Library, in partnership with Mount Grace Land Conservation Trust and Valuing Our Children (VOC) of Athol, presented "Book it to the Woods".  Mount Grace set up a campsite in the library's program room and different activities for children – for toddlers to twelve-year-olds – took place during the day.  Activities included fairy house making, oral and traditional storytelling, crafts, s'mores, movement, songs, an outdoor story walk, and imaginative play.
How did you connect with your community partners?
I connected with community agencies by taking part in a local organization, the Coordinated Family and Community Engagement Council (CFCE), which meets quarterly. The meetings provide a format for attendees to form relationships and work on projects together.  Through these connections, the Athol Public Library was able to partner with Mount Grace and VOC.
How did the collaboration benefit your library and your community partners? 
The library space provided an outreach opportunity for all three organizations. Mount Grace was able to spread the word about an upcoming community campout in June. VOC incorporated "Book it to the Woods" into a series of brain building activities they held in April, and first time library users were able to see the library's space, resources,  and learn about library services.  Ultimately, the library, Mount Grace, and VOC gained exposure from the others' patrons, and the collaborative effort made the four-hour event easy to manage.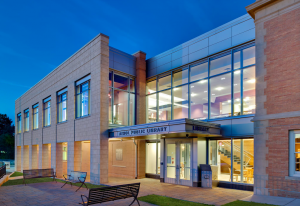 What impact did the partnership have in your community?
Approximately 50 people attended the event, which is a great turnout for our community, and participants benefitted from the shared skills of all the organizers. The library's willingness to work with organizations and execute successful partnerships shows that the library is a hub for community activity.
What advice would you give to a librarian interested to cultivate a similar partnership?
Join organizations that help you build partnerships. Establishing relationships prior to working together helps all involved understand each other and work together better. Once you have established relationships start small events and build up to larger ones. The library and VOC have been working together for years now on story walks and outreach activities; collaborating on projects together has become second nature.
Interview with Angela Dumas, Children's Librarian, Athol Public Library