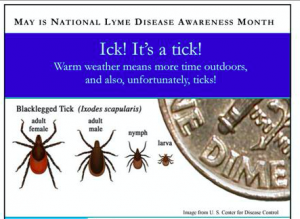 Thank you to Sharon Hawkes, Director of the Nahant Public Library, and Margot Malachowski, Education & Outreach Coordinator at the National Network of Libraries of Medicine for sharing their experience with the STOP LYME project, a multi-faceted public health partnership.
Tell us about your community partnership.
Sharon Hawkes (Nahant Public Library Director):  The STOP LYME project was both a local and statewide partnership to do two things: deliver good information about tick-borne disease to our patrons and to show that libraries can scale up to help deliver state information to the public. The state legislature had recently voted favorably on a Lyme insurance bill and they were concerned that constituents understand the new law. So we thought this might be the right topic at the right time. Plus, tick-borne disease is a serious problem in Massachusetts! So we created 4 resources to fulfill the goal of providing information in multiple formats: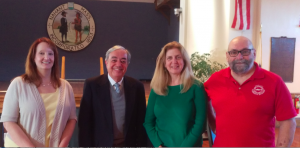 The project involved 5 partners: Nahant Public Library; the Massachusetts Department of Public Health; the Town of Nahant; Nahant Health Agent John Coulon; and health librarian Margot Malachowski of the National Network of Libraries of Medicine, New England Region. Additional advice came from Cape Cod Cooperative Extension, the Laboratory of Medical Zoology at UMass Amherst, and Barnstable County Department of Health. It was funded by the National Library of Medicine.
I had hoped to have a dozen libraries sign on to receive the binder of information. Instead, 132 separate libraries said "yes!" And many of them went above and beyond by cataloging the Handbook for circulation, creating book displays, and hosting programs on tick-borne disease.  
Margot Malachowski:  I've known Sharon for several years. We've talked about working together on a Lyme disease project. I know that is a special interest of hers. As a medical librarian, I am always looking for partnerships with public librarians to get a better reach into the community.
How did you connect with your community partners?
Sharon Hawkes:  Everything was done on a tight budget with help from a lot of organizations and individuals. The libraries were recruited through the MBLC allregions list serv. We kept in touch with all partners and advisers through email, and occasionally phone or in person, each step of the way – very low tech! The Handbooks were assembled by the Nahant Public Library staff and distributed through the MLS delivery system, and the library partners sent evaluations through email attachment or Survey Monkey. Ebooks were purchased for us by MLS for Axis 360 and we uploaded a PDF version of the Handbook ourselves through Biblioboard. The "Ick, a Tick!" forum was videotaped for local cable and uploaded from a dropbox to Youtube. The Lymebrary was brought back online and improved upon by Act of Design of Maine, with all communications by email.
Margot Malachowski:  I encouraged Sharon to apply for funding from the National Network of Libraries of Medicine (NNLM) for a Lyme disease project. She came up with a great idea: the Stop Lyme! Handbook. As part of her proposal, she listed me as a panelist for a springtime discussion on the prevention, identification and treatment of Lyme disease. My part of the panel discussion was to explore "miracle cures" that patients might find on the internet. I would give recommendations for how to locate science-based information.

How did the collaboration benefit your library and your community partners?
Sharon Hawkes: The project helped position our small community library as a place where authoritative information can be found. We are so much more than books! We also demonstrated that one small town can influence the entire Commonwealth. We will also be happy to turn to the folks at National Network of Libraries of Medicine for assistance in the future. They were personable, thorough, and easy to work with.
Margot Malachowski:  As an Education and Outreach Coordinator for NNLM, I am working toward raising awareness of high quality, freely available, science-based health information resources. This includes awareness of science-based integrative (or alternative) medicine resources. Collaborations with librarians, educators, health professionals and community groups are essential for me to "get the word out".
What impact did the partnership make in your community?
Sharon Hawkes:  Already, five different patrons have come to the library specifically to ask questions about Lyme disease. One patron came in with an expanding red rash, and we were able to help her decide about seeing her doctor. Other patrons asked specifically to see the Handbook. Still others have accessed the ebooks and YouTube video online. One patron spoke with pride about having seen the Handbook on a table at Marblehead's Abbott Public Library, and was thrilled that it was created in Nahant.
A gentleman and his wife attended the "Ick, a Tick!" forum because they had seen the STOP LYME Handbook in a library in Southeastern Massachusetts and learned about the forum from staff there. At the forum, the gentleman was able to ask the epidemiologist a question about the sudden onset of meat allergy (a rare side effect of Lonestar tick bites) and was able to speak with the physician about his particular case following the forum.
We at the Library also met a new human resource, the town health agent John Coulon, and hope to have continuing relationships with him and the other partners. Statewide, the Library had the opportunity to speak about the project with state legislators, including having an opportunity to advocate for Mass Library System. I agreed to speak on the topic at two other libraries, and also will be presenting the project at the Central Massachusetts Lyme Conference in the fall. Partner Margot Malachowski and forum speaker Samuel Donta have also been asked to present at other libraries across Massachusetts.
Margot Malachowski:  I know that this question is for Sharon, but I must say that I was impressed by the audience that attended the panel discussion. Sharon is providing lifelong learning opportunities for her community. In terms of the impact on Massachusetts public libraries, I walked into my local library to see a copy of the STOP LYME Handook prominently displayed on an information table. Sharon is sharing an important resource with the entire Commonwealth of Massachusetts.
What advice would you give to a librarian interested to cultivate a similar partnership?
Sharon Hawkes:  Trust librarians to have the passion to find ways to get the word out in effective and low-cost ways. Their passion and ideas helped keep us motivated. Librarians rock!
Margot Malachowski:  Go with a topic that you are passionate about. Your deep interest in the topic will help you develop ways to create partnerships.
Interview with Sharon Hawkes, Library Director, Nahant Public Library & Margot Malachowski, Education & Outreach Coordinator, NNLM New England Region