Want to see more fantastic collections? Read our other Library of Things Blog posts!
Andrea Puglisi, Serials/Reference Librarian, describes their collection as follows:
3D Printing & Lendable Technology at the Berkshire Athenaeum, Pittsfield's Public Library
Starting in October 2010, the Friends of the Berkshire Athenaeum have sponsored and supported the Berkshire Athenaeum's Technology Lending Program (TLP). We have had great success in our library with lending e-readers for take-home and tablets for library use. The Technology Lending Program was created for two purposes:
As library patrons grew increasingly interested in accessing the downloadable digital content provided through Overdrive, Reference Department staff were being called on to provide assistance to patrons with e-book readers. While some staff owned some eBook readers personally, it was a challenge to become familiar with devices beyond their personal experience.

TLP devices give Reference Staff the ability to keep up their skills

on a variety of devices.

As retailers were offering a variety of devices with different strengths and different service models, library patrons who were considering the purchase of an eBook reader had questions about what brand of device would work best for them. Further, for some library patrons owning such a device would present a financial difficulty or impossibility. Making the devices available at the Athenaeum

gives library patrons an opportunity for exposure to a technology

they likely would not have had otherwise.
We have always approached our TLP as an opportunity for patrons to enjoy as close to a genuine personal experience as possible. Our devices allow for patrons to download free apps and to place requests for paid apps with library staff (we buy gift cards and then redeem them in the app stores). Thanks to the Friends of the Library's ongoing financial support of the TLP, our library has purchased a number of educational, creative and engaging apps for our patrons to enjoy. A large part of our success with this program can also be credited to our comprehensive Technology Lending Program policy, which outlines our device content policies and lending policies. Our policy provides all library staff with clear directions on how to handle lending and unreturned devices. Conversely, library patrons have clear expectations on how we expect our devices should be handled and our process if devices are damaged or unreturned.
As we began lending Android, Chromebooks and iPads, our library signed up for Apps for Education by Google. Using Google's Apps for Education, we became able to control the Google Services that are enabled or disabled on the library's Android devices. By being able to manage the services that the library's Google account was able to use, we have been able to prevent patrons from corresponding or saving documents in the library's Google Account while using a public Android device. Thanks to Apps for Education, we also enjoy the ability to buy Chrome Licenses and assign them to our Chromebooks. We have configured our Chrome licenses to enable a timed public session which does not require patrons log on with a Google account. Public sessions also offer the benefit of deleting the patron's history and data at the end of their session. Apps for Education has been instrumental in our overall management with our public library devices, and we strongly recommend libraries use Chrome licenses when configuring Chromebooks for public use.
For questions on how to use Apps for Education and/or configuring the devices and platforms that make up our TLP, please direct your questions to Andrea Puglisi at: andrea@pittsfieldlibrary.org, who is responsible for configuring and developing the Berkshire Athenaeum's Technology Lending Program.
The Berkshire Athenaeum's TLP operation has grown beyond the lending of tablets and includes a number of maker and coding tools. At the time of this blog, our Technology Lending Program currently offers:
Tablet Lending Family: Library Use Only
Windows 10 Laptops (we retired our Windows 8 Surface 2)

Chromebooks

MacBook Pro

Assortment of Android tablets, including Samsung Galaxy Kids tablet

iPads, including iPad Pro, iPad Pro Stylus & keyboard

Boogie Board

Accessories, including Pencil 53; wireless keyboard; SD Card reader; external disc drive

2 Snapchat Spectacles (new, staff use only)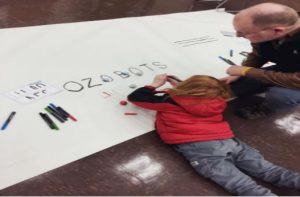 Kids Coding & Gaming Tools: Library Use Only
Ozobots 

Dash & Dot

Little Bits & Snap Circuits

Tiggly Words

Bloxels (new)

Nintendo Switch (new)
Take Home Technologies
Our Technology Lending Program continues to shift and adapt as the technology needs of our community evolve. Our Children's Library has acquired a number of coding toys and tools which has been integrated into their programming. Kids have enjoyed playing with Dash & Dot during storytime; created motorized legos during Lego Club; and they enjoy using Ozobots and our other technology during Technology Tuesday's while they wait for their 3D Printed design to print.
For more information on programming with these technologies in the Children's Library, contact Sara Belleau at: sara@pittsfieldlibrary.org who has integrated these tools into our programming in the Children's Library.
Beginning in the Spring of 2016, the Berkshire Athenaeum introduced programming with 3D Printing. Library staff spent a number of months training, experimenting and learning about our equipment before introducing the technology to the public. At this time of this blog, the Berkshire Athenaeum currently owns the following 3D Printing & Making Tools: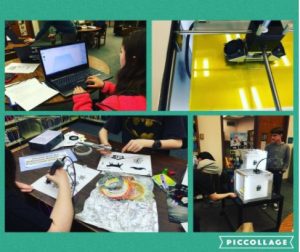 2 Ultimaker 2's
1 SeeMeCNC Orion

2 3D Scribbler Pens (v3)

3D Sense Scanner

2 3D Mouse

Raspberry Pi kit: a project to enable wireless printing to our SeeMeCNC Orion (new)
We have found that there have been a number of ways to generate excitement about our 3D Printers with our community and engage an audience beyond our walls. Using the Morphi app (paid version) and Tinkercad, we have been able to help patrons make fast, unique designs while on the go at places like the Berkshire Museum, Pittsfield High School and/or IS183 Art School. When offering programming inside the library, we have trained patrons on how to change filament, troubleshoot the machines and learn how to design.
In January 2017, we launched our Self-Guided Program which empowers our patrons to learn 3D Printing at their own pace while enjoying the support and experience of our librarians. The Self-Guided Program calls for patrons to attend two required in-person sessions to learn about our printers and how to safely troubleshoot them. Our library offers staffed, open workshops where patrons receive  semi-personal instruction and feedback on their designs. Our library also offers a Reserve a Librarian service where patrons can get personalized instruction on a variety of needs which includes 3D Printing. Depending on scheduling and the needs of our community, the number of scheduled open workshops that we are able to offer does fluctuate.
Our patrons have made tools, printed their own signatures, scanned busts of themselves and created prototypes for school projects (one of our patrons has taken to blogging about his experiences and creations!). We have been impressed and excited by the creativity that exists within our community. For any library that is looking to add this service, we guarantee that you will be delighted by your community's creativity as well. We document our patron's creative exploits all across social media, so be sure to find us @berkathenaeum on Twitter, Snapchat, Facebook and Instagram to see what we are making and celebrating at our library every day.
We have taken on a lot at the Athenaeum and we love what we do! Sharing is at the heart of librarianship. If you have any questions on programming with 3D Printing with teens and adults (including our Self-Guided Program), please do not hesitate to contact Andrea Puglisi at: andrea@pittsfieldlibrary.org. If you have questions about 3D Printing with kids, tweens and teens, contact Sara Belleau at: sara@pittsfieldlibrary.org.