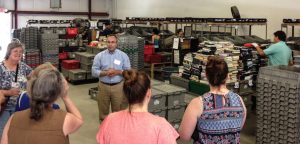 Thank you to everybody who attended the MLS and Optima Open House at the Plymouth warehouse. Staff from MLS member libraries experienced the delivery process firsthand. Attendees witnessed how Optima handles both incoming and outgoing bins and items. Some members even got to don the sort-to-light glove and tried sorting resource materials! Overall, members found it eye-opening to see the delivery process in action. Some attendees said they expected conveyor belts and automation everywhere.
"We've long speculated about the sorting factory and it was fantastic to see what it's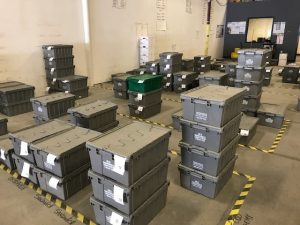 actually like," said Kristin Norton of Paul Pratt Memorial Library of Cohasset.
Lorraine Rubinacci, of the Ames Free Library of Easton, appreciated the opportunity to see delivery with a new perspective. "I was impressed by Optima's clear organization. It was also good to humanize the concept of delivery by seeing real people doing their job."