The U.S. Department of Health & Human Services reports that, "Our nation is in the midst of an unprecedented opioid epidemic. More people died from drug overdoses in 2014 than in any year on record, and the majority of drug overdose deaths (more than six out of ten) involved an opioid." Concerned about this tragedy and interested to identify ways that libraries can help alleviate the opioid epidemic, I reached out to Fred Newton, President & CEO of Hope House Addiction Services in Boston,  who served on Governor Baker's Opioid Working Group to inquire about his views on how we can help.  Thank you to Fred for taking the time to share his personal thoughts and insights.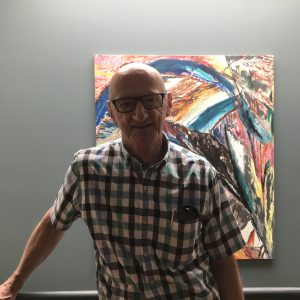 Michelle Eberle (ME): How can librarians help alleviate the opioid crisis in Massachusetts?  
Fred Newton (FN): Librarians should become trained in the administration of Narcan. Narcan™ (naloxone) is a prescription medicine that blocks the effects of opioids and reverses an overdose. It may seem unlikely that a person would overdose in a library, but any place with public rest rooms may see an increased risk.  Staff should be trained and carry Narcan always!
Librarians should become familiar with the "State Without Stigma" and "Good Samaritan Law" campaigns, to educate others that substance use disorders are a medical disease that need intervention and not morality or shame!  The Good Samaritan Law provides safety for people who report suspected drug activity.
Librarians should collaborate with local elementary and secondary schools to coordinate the educational needs of their community's response to the opioid epidemic. In part, emphasizing the imperative to avoid discarded used syringes because of the potential lethality. Calling local municipal public works and public health departments about the discarded syringes is critical. In Boston call 311.
Librarians should to be familiar with the signs and symptoms of opioid use when people (family and friends) are seeking this information regarding a loved one. In part, those signs and symptoms may include: noticeable elation/ euphoria, marked sedation/drowsiness, confusion, constricted ("pinned") pupils, slowed breathing, intermittent nodding off, or loss of consciousness.
Lastly, librarians should become aware of and conversant in Medication Assisted Treatment (MAT), including Opioid Treatment Programs (OTPs), which combine behavioral therapy and medications to treat substance use disorders. Examples of MAT include, methadone maintenance and Suboxone (combination of buprenorphine/naloxone).
(ME) What key recommendations in the action plan are most relevant for librarians?
(FN) Narcan has saved more lives than any other intervention!
Substance Use Disorders, including Opioid Use Disorders are a medical condition. Diagnostic criteria for these and other "disorders may be found in the Diagnostic and Statistical Manual of Mental Disorders, Fifth Edition (DSM–5),
Medication Assisted Treatment (MAT) can save lives
Each community has its own special needs and considerations. Librarians must be in tune with what they are.  Many communities have groups with titles like "(town) drug and alcohol coalition," which include representatives from police, fire and ambulance services, city or town delegate, public health nurse, school official, concerned citizens and others.

Make sure there are appropriate flyers and posters on display to stop the stigma, and offer information and help for people who are dealing with the crisis.  Flyers and posters in discreet areas are helpful to those who can't ask for help, publicly.
The Commonwealth of Massachusetts has an information helpline at 1-800-327-5050 or www.helpline-online.com
(ME) What type of community programs would you like to see public libraries and school libraries offer that would help alleviate the opioid epidemic?
(FN) Host expert educational talks on different aspects of substance use disorders, e.g., "The progression of the disease".  Many people think that it is just a phase that the person is going through, or take the attitude of "s/he is only drinking alcohol all kids do that".  Another topic is the effects of a substance use disorder on the family members.  How do other families act or react?  Inviting a person in the community to publicly talk of their substance use disorder and recovery can be very powerful. Host family support groups, like "Learn to Cope" or "Alanon."
Providing any kind of positive alternatives to alcohol and drug use, gang involvement, etc. is critical.

(ME) What do you see as the role for hospital librarians and academic health science librarians?
(FN) Both academic health science librarians and hospital librarians have a critical role in the Opioid Overdose epidemic. Whether it is in the distillation of "cutting edge" research information, e.g., pharmacological advances, behavioral research or implementing the newest "evidenced based practices" there is much more to be done. With the advent of super opioids, e.g., fentanyl and carfentanil, the scope of the opioid epidemic is still evolving. Providing up-to-date health and safety information is crucial.
(ME) Any other thoughts that you would like to share?
(FN) The task at hand is massive, and it is still evolving. As the MassLibSystem footer says: "Stronger Together."
All members of the community need to set aside any personal biases and recognize that we are facing a formidable foe, substance use disorders and more specifically "opioid use disorders."
Setting aside any stigmatizing language may be one of the first requirements. We are not talking about addicts or druggies. We are talking about people, my neighbor, my family, my friend and my co-worker, with a diagnosable substance use disorder.
Interview with Fred Newton, President & CEO of Hope House Addiction Services in Boston
For more information: (ME)
Opioid Abuse and Addiction (MedlinePlus)
Patient education resources from the National Library of Medicine.  Also, includes the latest statistics, clinical trials, and journal articles from PubMed.
Opioid and Addiction Treatment (National Library of Medicine, Specialized Information Services)
Resources to understand addiction, overdose, opioid drugs, treatment, and recovery.  Also, includes topic related searches of the biomedical journal literature.
SAMHSA Treatment Finder (Substance Abuse and Mental Health Services Administration)
Find treatment facilities in the United States.
Alcohol and Other Drugs (Massachusetts Health Promotion Clearinghouse)
Order free brochures, booklets, and posters.
Reference:
The Opioid Epidemic: By the Numbers (U.S. Department of Health & Human Services)
Editor: Michelle Eberle, MLS Consultant