Kristi Chadwick shares her ALA experience.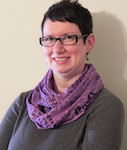 It was terrific to attend a variety of sessions in Chicago, but this session was a delight for my continued work to support member libraries with diverse adult collections and as a member of the committee.
"Growing Readership Through Diversity," is this year's annual RUSA CODES Readers' Advisory Research and Trends Committee forum. It included a panel of speakers: Juliet Grimes from Soho Press, Robin Bradford, Collection Development Librarian from Timberland Regional Library, OR, and Jamie LaRue, director of the ALA Office of Intellectual Freedom to Read Foundation. Each person was able to talk about adult titles and diversity from their own perspective. Grimes focused on how publishers and editors may look for the writers they know, and as titles are pitched from editors to publishers to PR, the sound bites can never encompass the knowledge that should be passed along. Bradford spoke of needing to go beyond traditional resources for discovering books as selectors: while some trade journals are working on expanding the breadth of access to titles, especially self-published titles through the years, there is so much to discover about them now, as patrons are finding them through the internet: Amazon, social media and other discovery tools. LaRue spoke of the intersection of intellectual freedom and diverse voices, discussing the book A Birthday Cake for George Washington and the polarized discussion around it and its ultimate pull from shelves.
While children's literature has had some strong focus, and some very good results, with meeting issues of diversity, adult collections still have a long way to go.