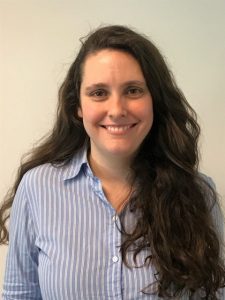 On June 13, 2017, the Massachusetts Library System hosted a Spring Program, Talking Social Justice in Massachusetts Libraries:  Diversity to Equity. The program provided an opportunity for members to learn about social justice and identify actions to promote social justice in Massachusetts library communities. Social justice is a key theme of our strategic plan.   In the spirit of embracing co-creator culture, we invited Katie Beth Ryan, the Information Literacy Librarian at the American International College, to share her thoughts and insights about the spring meeting.  Thank you, Katie Beth, for taking the time to share your reflections!
Tell us about your experience attending the MLS program, Talking Social Justice in Massachusetts Libraries:  From Diversity to Equity.
Katie Beth Ryan (KBR): I had been looking forward to the MLS meeting on diversity, equity and social justice since I first saw the announcement for the program earlier in the spring. I was especially excited to see April Hathcock, whose blog and Twitter feed I follow, was the keynote speaker. I found myself feverishly taking notes during her talk, and during the afternoon talk by Alli Gofman and Ann Marie Willer from the MIT Libraries.
What take-away stuck with you most since attending the program?
KBR: It's hard to name just one nugget of wisdom I took away from this day since so many were shared. I appreciated hearing how the MIT Libraries have incorporated diversity and equity principles into each aspect of library work, including outreach activities and hiring. I work at an institution much smaller than MIT, but Gofman and Willer offered perspective on scalability. Regardless of your work environment, you need to carefully identify your climate, audience, and the needs of your institution.
How will you integrate what you learned into your professional and personal life?
KBR: Since attending the program, I've been thinking of ways to incorporate principles of equity into my work, whether it's including my preferred pronouns into my email signature, or creating thought-provoking library displays. I also walked away from the meeting with ideas for how to constructively confront others on biases and microaggressions. Overall, the meeting pushed me to continue to educate myself on whiteness, both in the LIS profession and in society as a whole, and to consider what steps I can take to make my library environment a truly welcoming, diverse and inclusive place for all who study and work there.
What further support would you like MLS to provide to foster social justice in Massachusetts libraries?
KBR: I've attended a few MLS webinars and have found them valuable. I'd love to see MLS build upon the momentum of the spring program by offering webinars on diversity and social justice topics within libraries. These would be one way of reaching people who were not able to attend the meeting, and to continue the conversation among librarians throughout the Commonwealth.
What other reflections would you like to share?
KBR: I've spent a lot of time thinking critically about how I can support and affirm people of color, LGBTQ people and immigrants. As Hathcock noted in her talk, libraries have long been a place pervaded by whiteness. We need to be committed to building diversity with our profession, so that it reflects the demographics of our country, and supporting colleagues of color. I appreciate MLS offering librarians a chance to consider how we can break down oppression within libraries.
Interview with Katie Beth Ryan, Information Literacy Librarian at the American International College
 Interviewed by Michelle Eberle, MLS Consultant