Do you love to lead book discussions?  Are you interested to support the health literacy of your community?  Then, this interview is for you!  Read on to learn more about graphic medicine book discussion kits freely available to your library from the National Network of Libraries of Medicine, New England Region in this interview with Matthew Noe.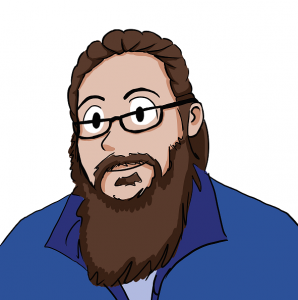 What is graphic medicine?
Matthew Noe: Graphic medicine refers to the intersection of comics and healthcare, or more bluntly, comic books about health topics. The field has emerged over the past decade-or-so as comics have grown in popularity and acclaim and as the importance of the humanities in medicine has been more widely recognized. These comics range from short, informational books like Pain is Really Strange to critically acclaimed graphic novels like Can't We Talk About Something More Pleasant? to children's comics like Ghosts and Iggy and the Inhalers. Some help us build empathy, while others are meant to teach us something in a fun, accessible way, and the field grows by the day!
 Tell us about the NNLM NER's Graphic Medicine Book Club Kits. 
The kits are an idea I had while visiting the Ypsilanti District Library, where they built a large graphic medicine collection, including loanable book club kits, via an ALA Will Eisner Grant. The idea is that many of the people who might have an interest in graphic medicine aren't in a position to purchase the books and/or aren't familiar with running a book club. Our kits address both of these issues by lending graphic novels and sharing a discussion guide and supplementary consumer health materials from the National Library of Medicine. Right now, we have 11 of these kits, on 10 different health topics – the addiction kit proved so immediately popular that we made a second kit. Each kit is typically lent out for a six-week period and I am available for help in planning and running club discussions.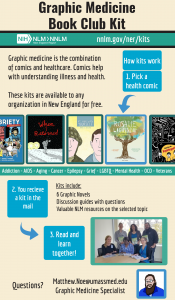 How can MLS members obtain the Graphic Medicine Book Club Kits?
The kits are available free-of-charge to organizations within New England and can be requested through a survey link at www.nnlm.gov/ner/kits.
What advice would you give librarians interested to lead a graphic medicine book discussion?
Three things come to mind. First: plan, plan, plan! The most successful uses of the kits have come from groups who either have a standing book club program or who have given thought to starting one, while those who struggle are going with a "build it and they will come" mentality. Second: be prepared to facilitate tough, emotionally challenging discussions. Most of our kits are built around graphic memoirs and they'll have people laughing, crying, and everything in between. Remember not to feel beholden to the discussion guide questions – let the conversation happen as naturally as possible. Third: comics are for everyone, but remember Ranganathan's Third Law: Every book its reader. Not everyone will enjoy every comic, nor is every comic necessarily for every audience. Be mindful when planning your club!
How did your career path lead you to such an interesting position – Graphic Medicine Specialist?
I get this question all the time! I actually found graphic medicine by accident while working as an intern during graduate school – I was supposed to be finding studies for a radiologist and missed wildly! This was around the same time I was becoming increasingly interested in comics as a reader and how they might be used to teach general literacy. In other words, it was a perfect storm of accidental luck! I spent the rest of my time in graduate school pursuing the field and have now spent the last year building collections and programming at UMass Medical School and NNLM NER.
Anything else you would like to share?
In addition to the book club kits, you can learn more about graphic medicine through this NNLM NER Introduction to Graphic Medicine webinar, meant to provide a wide overview of the field for librarians. Also be on the lookout for a recording of a panel on graphic medicine from the Massachusetts Independent Comic Expo, featuring a panel of comic creators (and me) discussing their approach to medically themed comics!
Interview with Matthew Noe, Graphic Medicine Specialist at the National Network of Libraries of Medicine, New England Region at the University of Massachusetts Medical School
Interviewed by Michelle Eberle, MLS Consultant