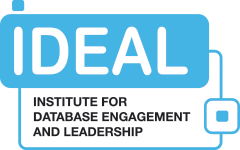 Having reliable online information has never been more important. Libraries, and the databases we offer, have a vital role in making that happen. Yet this important service is underutilized. MLS and MBLC are working with Gale to change that, but we need your help!
Whether you're an expert database user, someone who has no idea how they work, or somewhere in between; please consider applying for the Institute for Database Engagement and Leadership (IDEAL) facilitated by a group of librarians, MLS, and MBLC in collaboration with Gale. You'll learn all the ins-and-outs of databases, you'll help create promotional materials for statewide campaigns, and have the opportunity to share nationally what we develop here in Massachusetts. Library staff of all levels and library types are encouraged to apply. Boost your resume and learn new skills!
This is an opportunity for you (and your library!) to increase usage of your databases, learn how to promote online resources, and become a leader in online information in Massachusetts.
The full application and more details can be found here: http://masslibsystem.libsurveys.com/idealapp
Applications Due Tuesday, October 3, 2017