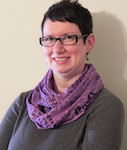 This was my first experience attending the Association for Rural and Small Libraries (ARSL) Annual Conference. While the group had been on my radar for a while, especially when I was first hired in the role of Advisor for Small Libraries, I had not explored its possibilities until now. The first draw I found was the preconference program from the PLA Planning Academy, led by Stephanie Gerding. This all-day session was a dive into strategic planning for smaller libraries, including design thinking and one-page plans for advocacy. I look forward to bringing a lot of this into my Spring 2018 Strategic Planning workshops.
I was enthused by the number of librarians who explained how this conference is the best they ever attended. It is not overwhelming, with 2017 being a "record attendance" of around 540 people. Everyone who presented had real experience working as a rural library, many standalone, and even their systems and networks are widespread and working on limited resources, as many libraries can do. Among some of the sessions I attended were "Nitty Gritty Policy Manual," "Bursting at the Seams: Extraordinary Service in Limited Space," and "Small Libraries Create Smart Spaces." Descriptions of these sessions are on the ARSL 2017 Conference webpage: http://arsl.info/2017-conference-schedule-as-of-72617/
All in all, I would definitely recommend this conference to smaller libraries or larger libraries that have self-autonomy in branches. Personal experiences and networking is a wonderful part of this conference, which may not be as workable in some of the larger conferences. ARSL is planning to have their 2019 conference in Burlington, VT. I would encourage our MA libraries to both submit programming and attend, even if only for a day. It is worth it!