Have you thought about using the Turning Outward to Your Community step-by-step guide to better understand and connect with your library's community?  In this month's MLS Community Engagement Blog interview, Jean Canosa Albano, Assistant Director for Public Services at the Springfield City Library, shares her experience and insights from participating in the Libraries Transforming Communities initiative.
How did your library "turn outward to your community" using the Harwood Institute for Public Innovation's process?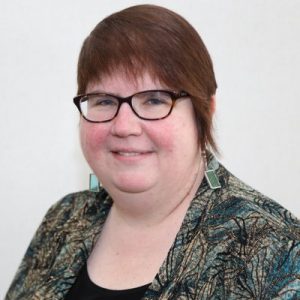 Jean Canosa Albano:  We are part of the Libraries Transforming Communities cohort, having received a grant from the American Library Association to learn about the Harwood Institute's philosophy and methods of community engagement. My team of five staff members traveled to Denver, Chicago, and San Francisco for intensive training, and we learned about reframing the community narrative away from the negative ("we've tried that before," "in the old days it worked better like this," and "nothing ever works") to a more positive, aspirational narrative ("we should have more opportunities to be outside in the community," "a better mentorship network will help our community," and "more discussion and conversation will lead to better coordination between neighbors and community agencies"). We learned how to turn outward, and base our policy and programmatic decisions on what we know about the community, rather than sitting around a board room, drawing on statistics, census data, and what other libraries are doing.
What did you learn about your community through the process?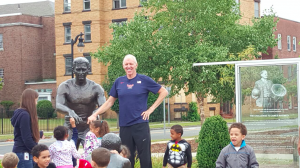 Imagine a beloved park or a community center that you've visited for years or that symbolizes neighborhood pride. Suddenly, you find that park padlocked, or the community center boarded up. What would that feel like? For our neighborhood residents, that spot was a small park adjacent to the Mason Square Branch Library that commemorates the location of the first game of basketball.  When it first opened, it was a source of pride for neighborhood residents. But for over a year, its lighted glass panels had been boarded up. Through a series of Community Conversations, we heard about how unhappy people were with the delay in repair, and their belief that the panels were boarded up because of a fear of vandalism, not actual vandalism. This lack of trust between residents and institutions came across in many other ways, too, including participants telling us how hard it can be to mail a letter when the corner mailboxes have been removed from their streets. We carried this information forward, and other neighbors took action as well, and soon, the panels were uncovered, and the community took pride in the restoration of this space that connects the sport's past to today. When basketball Hall of Famer Bill Walton recently visited Springfield, he came to the Mason Square Branch for a read-aloud, then toured the basketball park with dozens of Head Start students. It was a great day!
 How is your library staff using what you learned?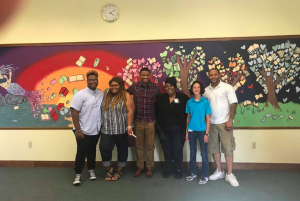 We have used the Innovation Space technique to think about what we have been learning. It's a way to pause and reflect and make sure that what we are doing matches what we are hearing from the community. For example, we used the practice to look at our Hi!Tech computer classes, revising the format and focusing on outcomes. Our monthly reports now include a section headed What Are We Hearing from the Community? We are not simply looking for comments on the library schedule or collections. We want to know what our community members' aspirations and challenges are. Once, a librarian happened to mention the difficulty patrons have expressed getting jobs due to their CORI status. This is what we should be listening for. It lets us know that when a community group wants to hold a session on seeking employment post-incarceration, or if we have an opportunity to offer a program on closing a criminal record after paying your dues, that those are programs that will be of interest to members of our community.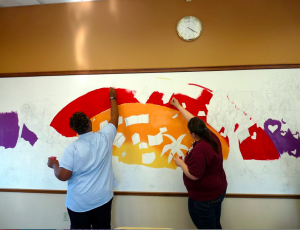 Our new Community Narrative was created by deeply listening during the series of Community Conversations, and drawing out recurring themes of shared aspirations. It impels us to integrate opportunities for teen leadership development opportunities into programs and services we offer. We have tripled the number of Teen Advisory Boards throughout our library system, and teens are learning about running meetings and gaining consensus. They generate ideas, and learn what it takes to work together to bring them to fruition. Recently, the teen group at the Sixteen Acres Branch Library, mentored by Harwood Team member Emma Peterson, worked with their school art teacher to create a beautiful mural for all to enjoy in the branch's busy Community Room. They proudly unveiled their work at a reception for friends and family that was attended by their Ward City Councilor, Marcus Williams, who featured it on his Facebook page.
The Community Narrative also reflects residents' aspirations for more intergenerational opportunities and more occasions to be outside in the neighborhood. We began offering a Community Picnic and Farm Fest at Mason Square Branch Library, where we had focused our work.  We pitched tents, we held a book sale, we offered live music, we invited food trucks, we put out lawn chairs and corn hole games, and we had a great time.  The event has grown each year, with co-sponsors like the Carnival Association providing grilled food and entertainment. It's an event not to be missed that brings people of all ages together for a great time.
What advice would you give to other librarians interested to "turn outward to their communities"?
Part of the work the Libraries Transforming Communities cohort did was to refine the Harwood tools to be even more helpful to libraries. Cohort members are committed to sharing the concepts and tools out to the profession, and many of us have presented at conferences and trained colleagues formally and informally in their use. The American Library Association has made them available online and expanded on them by publishing related tools about deliberative dialog and other community engagement methods. When you look at the series of tools, it can feel daunting, but I encourage you to jump in. Try the deceptively simple Ask exercise and you just may be hooked!
Any other reflections would you like to share?
It can be a challenge to spread a new way of thinking about our work across a library system. I'm committed to working on this shift in organizational culture over the next few years. One way we are doing this is through the hiring process. A "turned outward" candidate definitely gets priority! I love talking with librarians about using the Harwood tools and I hope you'll contact me. I can't imagine working any other way.
Interview with Jean M. Canosa Albano, Assistant Director for Public Services at the Springfield City Library, jcanosa@springfieldlibrary.org 
Interviewed by Michelle Eberle, MLS Consultant