In October and November, the Massachusetts Library System hosted four Public Library/Social Service Forums.  The idea for the forums was initially generated by my interest to explore whether our members might be interested in hosting social work field placements at public libraries.  To explore this idea, in August of 2017, we conducted a survey of public library directors and discovered that our membership is very interested to partner with social workers.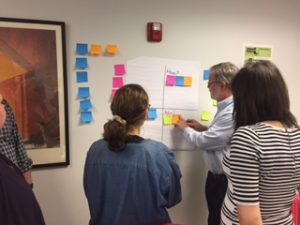 Public library directors were primarily interested to have a social worker onsite to:
Provide social services referrals
Lead staff development on topics like poverty, diversity, and social justice
Coordinate community awareness events on topics such as homelessness, diversity, and suicide prevention
Offer support for immigrants and citizenship.
The results of the survey revealed that this project should take a much broader scope and explore ways to foster not just social work partnerships, but social services partnerships.
What happened at the forums?  The library/social services forums included a brief update of the results of the survey followed by plenty of time for members to discuss issues facing their library's community, to share how they are responding, and identify ways to co-create solutions.  Our members expressed concern about serving patrons who are experiencing homelessness, substance use disorders, and mental illness.  Attendees also shared about wanting to better serve immigrants with literacy and citizenship services.  Some members were concerned about hosting a social work field placement and were more interested in connecting with local agencies to get an experienced social worker on-site part-time.  At the end of the forums, we had an ideation activity to brainstorm and co-create creative and innovative library/social services partnerships.
Would you like to see all the ideas generated by the forums as well as the slides from the presentation?  Check out our Social Services Forums Resource Guide.
So, what's next?  Stay tuned for:
Please feel free to reach out to me at michelle@masslibsystem.org to learn more about the forums and upcoming plans to further support public library/social services partnerships in Massachusetts.
-Michelle Eberle, Consultant