After a short break for the Thanksgiving holiday, participants in the Institute for Database Engagement and Leadership (IDEAL) program returned in earnest and attended a flurry of sessions in short succession. Read on to catch up on the latest sessions to see how participants are preparing for their spring projects!
Session 3: Digging Deeper with your Statewide Resources
In this session, participants moved away from database content and into some of the technical and "behind-the-scenes" information about the Gale databases. For example, all MLS member libraries have their own set of unique links to the statewide databases that are provided by the Massachusetts Board of Library Commissioners (find your library's links here). We also learned about the Gale support site, and the treasure trove of helpful resources available on that site to increase visibility of the databases including widgets, MARC records, and video tutorials. At the end of the session, we talked about usage statistics and how to interpret them. Stacey Knibloe, Implementation and Training Consultant ran the session and she was accompanied by Scott Steward, the Director of Technical Solutions at Gale.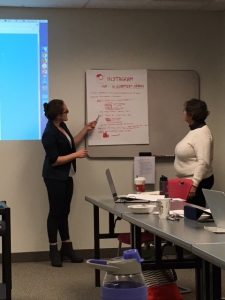 Session 4: A Crash Course in Social Media
Jason Homer, the Assistant Director at the Morse Institute Library in Natick (and member of the IDEAL planning committee) gave a thoughtful and engaging presentation on the art of using social media in our libraries. We learned that it is important to be genuine when using social media and that it is a good idea to have a social media policy for your library. It is also good practice to assemble a social media team and to use an editorial calendar and social media scheduler to organize and share your content. We also participated in an activity to promote a database using a social media platform, which helped the participants to start thinking about their projects.
Session 5: Marketing Campaign Basics & Crafting the Message
Due to the weather forecast, Session 5 was changed into a webinar with presenter Matthew Perry, the Outreach Coordinator for the Massachusetts Board of Library Commissioners (MBLC). This session focused on marketing and promotion. Matt explained the importance of using a creative brief (the who/what/when/where/why/how) for each project or campaign to ensure that you're reaching the right audience and your message is both relevant and resonates with the audience you're targeting. Matt also shared examples from some of the past and ongoing campaigns that are happening statewide including Summer Reading, #WhatsYourFour, and the Commonwealth Catalog. Despite the change in venue, it was still a very engaging session.
Between now and the next meeting in January, IDEAL participants are deciding what their projects will be for the spring. Stay tuned for more updates!