On Wednesday January 31, 2018 the MLS Mock Newbery and Caldecott Awards were announced at a special workshop where book discussion and celebration took place. The Mock Newbery was discussed and voted on virtually while the Mock Caldecott was held in-person. Both Mock Awards balloted and tallied votes in the manner used by the ALA ALSC award committees, but used a shortlist to make statewide discussion and voting easier.
MLS consultants Christi Showman Farrar and April Mazza are pleased to announce this year's Mock Newbery and Caldecott winners and honor books: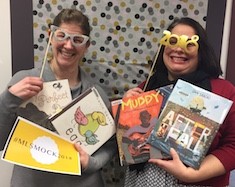 2018 Mock Newbery Winner: The War I Finally Won by Kimberly Brubaker Bradley
There are four honor books:
Real Friends by Shannon Hale
The Stars Beneath Our Feet by David Barclay Moore
Patina by Jason Reynolds
Beyond the Bright Sea by Lauren Wolk
2018 Mock Caldecott Winner: After the Fall by Dan Santat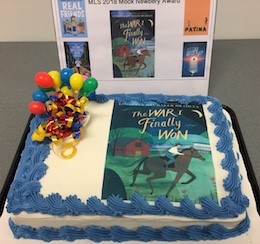 There are three honor books:
Egg written and illustrated by Kevin Henkes
A Perfect Day written and illustrated by Lane Smith
Muddy: the story of blues legend Muddy Waters illustrated by Evan Turk, written by Michael Mahin
Fifty-two librarians throughout the state voted in the 2018 MLS Mock Newbery which sets out to honor the most distinguished book published for children ages 0-14 by an American author in 2017.
You may watch the official Youth Media Awards (YMA) which takes place at ALA Midwinter at 8 a.m. MT, Feb. 12, 2018, from Denver, Colorado.
Learn more and join the MLS Mock Goodreads group here.
Thanks to everyone who participated!