This winter, I discovered a booklet at my neighboring library, the Groton Public Library, announcing a Season of Hygge.  I enjoyed reading the Little Book of Hygge and loved the helpful tips to bring more coziness and happiness into our lives with simple things like spending more time with friends and family, expressing gratitude, lighting candles, playing board games, wearing comfortable clothes, and drinking lots of hot cocoa and tea.  We can learn a lot from the Danish about how to create a warm and comfortable atmosphere for our libraries and homes. In this interview, Lisa Baylis and Deb Dowson tell us about the Groton Public Library's experience with a Season of Hygge.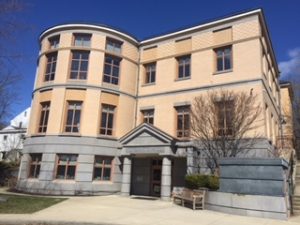 What inspired your selection of The Little Book of Hygge for your community read and the theme for your winter and spring programs?
Groton Public Library:  The positive joyful message, focus on natural products and experiences, encouraging small scale interpersonal connections, home grown events, and warm and cozy ideas for a winter month.
Which of your hygge themed programs were most popular?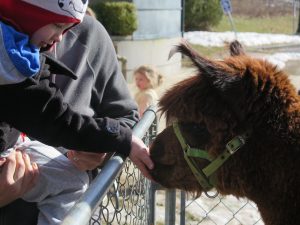 GPL:  Warm and Fuzzy Kickoff Event: This was a huge success! We had two visiting alpacas to meet from a local farm and crock pots full of hot cocoa. People from the Luina Grenine Farm were here to answer questions and display products that the incredibly soft alpaca fur gets transformed into. (socks, hats, stuffed animals, etc.) It was a hit with every age, and we had a lot of families attending with multiple generations! (same with the board games…)
Some of our other popular programs include: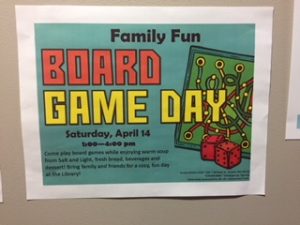 Family Board Game Day:
36 people of all ages and abilities
Large cart in center of room with huge assortment of games
Staff available to assist if people choose a new game
3 generations at a few tables
Low key help yourself event with soups and make your own brownie sundaes…casual and fun!!
Patrons loved that it was scheduled on first day of school vacation week.
Friday Cozy Hygge Cafés:
Held from 10 AM-1 PM for 6 weeks (approx. 180 people)
Small casual groupings scattered around the area
Flickering logs in a fireplace made of encyclopedias
Lots of plants
Groton Reads supplies scattered around the tables (Little Book of Hygge copies, Hygge Bingo, gratitude bookmarks to fill in, Hygge discussion starter Card Game, Danish cook books, Groton Reads Program newsletter, etc.)
Buffet of home-baked goodies (library staff), catered gourmet hot cocoa and coffee (and real china mugs and dishes made the experience that much more special)
Serendipitous small group connections
Many smiles and looks of surprise from patrons!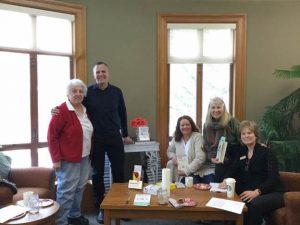 Last week's book discussion included sharing of why this book spoke to each of us, great Hygge ideas to try and home grown recipes. A little bit of magic happened half way through our discussion when the former U.S. Ambassador to Denmark joined us!! (He is actually mentioned on page 2 of the book.) He shared his experiences with Danish culture, answered all our questions and signed copies of the book for us. The book discussion participants got to keep their autographed library copy of Little Book of Hygge. What a wonderful day!
For teens, it was making Danish Treats (no bake oat cookies and Danish Crepes) and Making Mug Cozies. We also do a program every winter that is very "hyggely". We set up a Hot Chocolate Bar on Tuesday afternoons after school and the teens can help themselves to hot chocolate and all the fixings, and then stay to read for an hour. This was so successful the first time we tried it for winter reading, that we extended it for the entire winter, and have done it for 2 winters now.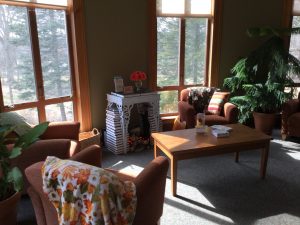 When I visited your library, I noticed a cozy fireplace reading nook that you created with orange string lights.  What a neat idea!  Did you make other changes to your space or library experience to generate hygge?
We purchased soft throw blankets for over the upholstered chairs and added battery operated votive candles in different areas/events.  For locally televised book discussion, we used cushy chairs around a coffee table instead of chairs around a table. A Hygge Café was held in a space that usually does not allow food or conversation…we successfully broke the mold!!
Since the book is authored by the CEO of the Happiness Research Institute and explores how hygge is connected to why Danish people are the happiest according to the World Happiness Report, have you noticed an improvement in your patrons' and staff's contentment?
Definitely! We noticed new relationships forming and older ones reconnecting, more positive conversations and genuinely warm and relaxed communications.
What feedback have you received from patrons and staff in response to your season of hygge?
We kept hearing "This is great!  Can we do this again?  This was really fun."
Any other thoughts you would you like to share?
Our only disappointment was the cancellation of our Full Moon Family Night due to a blizzard. We had so much fun planned and 40 people signed up.  The Full Moon Family Night would have included a fire pit in our garden in the center or our stone labyrinth, an astronomer with telescopes to try, an Owl Moon story time with Children's Librarian, and a sing-a-long of "moon" songs. Afterwards, families would follow a votive candlelit pathway around the garden to look for owls (laminated photos placed in trees and bushes).  We would have provided gourmet cocoa, cider, and mini moonpies for a treat.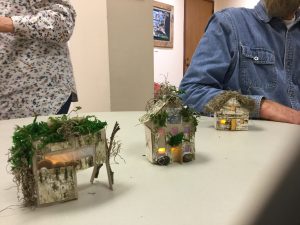 Many Hygge events had a playful characteristic. It felt like relaxed moments to get back to basic joys.  Such events included:
Warm and Fuzzy event with hot cocoa and visiting Alpacas
Melted Cheese for Comfort in the Cold
Family Board Game Days
Creating Illuminated Houses with natural materials
Forest Bathing Walk with a closing tea ceremony
Science of Chocolate event (with samples!)
Hygge Bingo with cozy gift basket raffle
Interview with Lisa Baylis, Head of Circulation, and Deb Dowson, Young Adult Librarian, Groton Public Library
Interviewed by Michelle Eberle, MLS Consultant