Please join us in congratulating our cherished MassCat Cataloger, Dodie Gaudet, this year's recipient of the NETSL Award for Excellence in Library Technical Services! On Monday, April 2nd, at the annual conference of the New England Technical Services Librarians, Dodie was recognized for her many years of friendly, knowledgeable, comprehensive cataloging services, and teaching.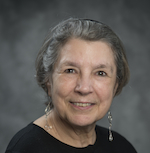 Award citation:
For more than 50 years of creativity, knowledge, and generosity to the field of library technical services across New England; for educating library staff and graduate school students with good humor, imagination, and for making the field and art of cataloging accessible to her pupils; for service as NETSL president, Chair of MLA/TSS, president and member of the UMass Amherst Friends of the Library, and trustee chair of the Hatfield Public Library; for a long history of outstanding contributions to the profession as cataloger, trainer, and consultant in school, public, academic and special libraries.
Dodie Gaudet thoroughly deserves the NETSL Award for Excellence in Library Technical Services.
Worcester, Massachusetts
April 2, 2018
If you have worked alongside Dodie, received assistance from Dodie, been taught by Dodie, or otherwise enjoyed Dodie's years of service, please take a moment to offer your congratulations.