Did you know that 1 in 10 Massachusetts households are food insecure? And, 1 in 7 Massachusetts children are food insecure.  Families who rely on the reduced or free school breakfast/lunch program face hunger in the summer. With this concern in mind, Margaret Perkins, Director of the Medway Public Library, funded a summer lunch program with the help of her Friends, because her library was ineligible for USDA funding.  Get tips from Margaret about how your library can fund and offer a successful summer lunch program.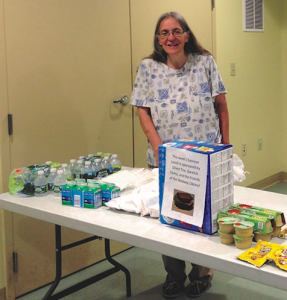 Tell us about your summer lunch program and how you generated funding independent of Project Bread.
Margaret Perkins: Last spring, I read an article on WebJunction's newsletter about free summer lunch programs offered by libraries in several states. Most of these programs were USDA-funded.  Most libraries in Massachusetts that offer a summer lunch program receive USDA funding, and partner with Project Bread. This funding requires that a minimum of 50% of the children in the community or program be eligible to receive reduced price or free lunch at school. I found that 12% of students in Medway are eligible for free or reduced price lunches, and although that percentage is too low to qualify for USDA funding, it is considerably higher than it was a few years ago. I decided to look into alternative funding.
I contacted Medway's Wellness Director, Ryan Sherman, as well as librarians from MLS and from other libraries that offer a free summer lunch program, all of whom provided a wealth of helpful suggestions. We began fundraising in April. The Friends of the Medway Library visited a number of businesses and restaurants to ask for donations to cover one of the eight meals provided during the summer. We received generous donations from the Lions Club, a church, supermarket, restaurant, businesses and individuals. Those organizations that had facilities to do so prepared delicious lunches. We also used donated funds to purchase prepared sandwiches and other lunch items such as applesauce and fruit cups from local stores. Garelick Farms donated milk each week. Parents/caregivers and children were all invited to eat lunch, a difference from the USDA funded programs which cannot provide food to adults. Extra sandwiches, milk and other perishables were offered to the attendees or donated to a family shelter.
In addition to providing much needed nourishment and nutrition for kids and families, what other benefits did your patrons experience from your summer lunch program?
We offered the summer lunch program once a week for 8 weeks, beginning the week after the 4th of July. Story hour for children up to about 8 years of age preceded each lunch. After lunch we offered STEM and craft activities for older children. We discovered that our giant tub of Duplo was hugely popular among the preschoolers and toddlers. Parents often participated in the craft and STEM activities, and gathered in the DUPLO area to share parenting stories and advice. These activities promoted family and community cohesiveness, and offered a welcoming atmosphere to patrons of all ages. Families new to the library were introduced to the wide varieties of programs offered, and children from several families became regular attendees at library programs throughout the following school year.
How will you sustain funding for your summer lunch program?
Thanks to generous donations by the Medway Pride Day Committee, Whole Foods Market, and the Lions Club, we are able to offer the summer lunch program three times a week in 2018. We could not have offered the program without our dedicated Friends of the Library, who not only sought out donations, but picked up many of the meals and worked tirelessly, along with a number of other volunteers, to serve the food. We are optimistic that funding has been found to cover several upcoming years as well.
What tips would you offer to other public libraries who do not qualify for Project Bread funding and would still like to offer a summer lunch program?
We were amazed at how many businesses and organizations were happy to donate. Don't hesitate to ask, even if the business is unrelated to food.
Start out small – one meal a week worked well for us.
We found that it was not necessary to ask people to sign up – when we offered lunch one day during February and April vacation without a sign-up, we still had a good turnout.
We planned for 20-30 people each week. Had a larger number showed up, we planned to make a quick run to a local pizza shop or to a deli for more sandwiches.
Make sure you have enough volunteers with driver's licenses to pick up the food. We had no problem finding wonderful volunteers of all ages to serve the lunches.
Any other thoughts you would you like to share?
We were amazed at the huge response we received from the community. We are very grateful to the generous residents, organizations, and businesses of Medway and surrounding towns.
If you have questions about the Summer Food Service Program and your community's eligibility for federal funding please contact April Mazza or Christi Farrar, MLS Consultants. 
*Want to learn more about the Medway Public Library's summer lunch program?  Then, attend the "Books and Bites:  Summer Meals at Your Library" presentation on Monday, May 21st at 10:30 AM at the Massachusetts Library Association Conference in Framingham.
Interview with Margaret Perkins, Director at the Medway Public Library 
Interviewed by Michelle Eberle, MLS Consultant