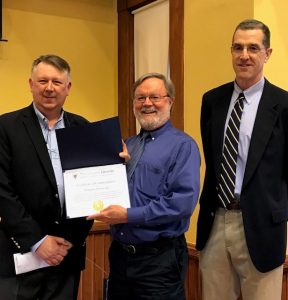 Best wishes, Greg!
MLS Executive Director Greg Pronevitz retired on July 5, 2018. Members and staff sent him off with a farewell celebration graciously hosted by our friends at the Harvard Public Library. Greg received citations from the MA House of Representatives, the MA State Senate, and the MA Board of Library Commissioners acknowledging his outstanding commitment to Massachusetts libraries. Congratulations and thank you, Greg!
MLS Executive Director Search
After a thorough process, which included several rounds of interviews and feedback from our staff and our members, the Executive Board was not able to successfully fill the role.
While the board is disappointed with the outcome, we are committed to finding the best candidate for this position.
The Executive Board will be meeting in August in Northampton to discuss next steps in this process. In the meantime, we are very fortunate to have Sarah Sogigian acting as Interim Director of MLS.
Sarah's contact info: 508-357-2121 x311 | sarah@masslibsystem.org
If you have any questions, please feel free to contact a member of the board. Board member contacts are available on our website.
MLS Annual Meeting
MLS will host its 8th Annual Meeting on November 5, 2018 at the College of the Holy Cross in Worcester, MA. Details and registration information are forthcoming.
State Minimum Wage Increase
On June 28, 2018, Governor Baker signed a new bill that will increase the minimum wage to $15.00, in annual increments over the next five years. The first increase will go into effect on January 1, 2019. MLS is currently evaluating the impact that this increase will have on MLS operations.
Thank you for your support!
Governor Baker approved the FY19 state budget last week. MLS is pleased to see a modest 2.6% increase to our funding. Many thanks go to our member advocates for helping bring this about.