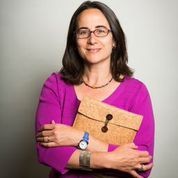 This month's MLS Community Engagement Blog interview features Madeleine Charney from the W.E.B. DuBois Library at the University of Massachusetts Amherst sharing her experience presenting Climate Change Conversations workshops.
Tell us about your Climate Change Conversations workshops.
Madeleine Charney: This past spring, while on sabbatical from the UMass Amherst Libraries, I offered a five-hour training, "Facing the Future: Facilitating Climate Change Conversations in Your Library" in each New England state. There was a mix of public and academic librarians in attendance with a few trustees, Friends of the Library and non-profit staff members (from Cornerstones of Science) sprinkled in. In all, I engaged with 106 trainees.  My goal was to empower librarians (and their allies) to invite patrons to explore the "wicked problem" of climate change on a heart level and in a non-threatening environment. Modeling a World Café format, we gathered in small groups to answer questions such as "What gives you hope regarding climate change?", "To whom would you turn in your local community in the event of a climate change crisis?" "What tools (inner and/or outer) would you activate in the event of a climate change crisis — to support yourself and others in your community?" and "What do you fear re: climate change?"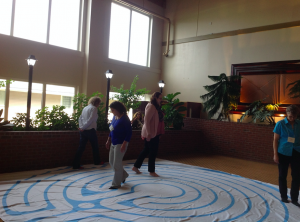 As we conversed, we enjoyed snacks and used colored markers to write and doodle on our paper tablecloths. Afterwards, we hung the tablecloths on the wall to peruse. The exercise was a real-life example of how a community can come together to explore their values and insights in the moment and as a display for the community to ponder later. Such a World Café program requires little to no funding needed. Because climate change is having a greater and greater impact on communities' mental health, the training integrated mindfulness exercises (e.g. guided visualization, walking a labyrinth, deep listening in dyads) — tools to calm the nervous system and find deeper meaning in day-to-day life. As Carolyn Baker writes in her book Collapsing Consciously: A Handbook for Inner Transition, "We must build what I call our 'inner bunker,' developing our inner world in preparation for navigating our external one, and that we must work consciously and creatively with our human emotions to ground ourselves for interaction with a civilization in chaos."
…………………………………………………………..
What kind of feedback have you received from participants?
Here are a few examples of "most valuable takeaway" from the feedback form I handed out at the end of each training:
"It was not what I anticipated, but I found it very fulfilling…Working with Quakers, I know the importance of quiet meditation in coping with our technologically enclosed world.  That was a nice inclusion." — Public library director from New Hampshire
"The contemplative piece is important to both facilitation of the conversation and having the strength for the actual catastrophes. So, it's fully worth it to integrate them into programming." — Instruction librarian from Smith College
"As humans we are in this together. It's okay to feel the 'doom.' More importantly we need to act upon it to ensure positive results personally and in our communities." – Staff person from Maine State Library
"To ground myself and force my way out of my comfort zone for the greater good of bringing about climate change discussions/actions." – Public librarian from Maine
"What I appreciated about your workshop was the focus on emotional responses and to use Donna Harraway's phrase, 'staying with the trouble'." Academic librarian from Rhode Island
…………………………………………………………………….
I think this workshop could easily be replicated for community dialogue with other civic engagement topics such as immigration, racism, or income equality.  What advice would you give to librarians interested to host civic engagement discussions?
My advice is to start your program by posting group guidelines and reading them aloud (e.g. We will wait until everyone has had a chance to speak before someone speaks again). This helps set a tone of equity and respect. Offer some background on your topic but do not overwhelm your group with too much information. While inviting an expert to present is an option, I want to encourage librarians to be the voice at the front of the room initially. Show your community that librarians are leaders. Then let the people speak! People generally love to talk – and talking is free! Check out ALA's webinars on Libraries Transforming Communities for lots of great ideas for civic engagement in libraries.
………………………………………………………………………….
Any other thoughts you would like to share?
 I am excited to see how librarians put their creativity and boldness to use by leading community conversations around the greatest challenge humankind has ever faced. I created an online group with 43 New England librarians on board so far. Although I've had inquiries about offering the training beyond New England, I am going with a "small is beautiful" approach. We New Englanders are bound by a culture, history and bioregion – let's be stronger together right here. Contact me if you're a New England librarian who would like to join the online group (you need a Google account). There you will find abundant resources and a forum for sharing ideas and questions.
Interview with Madeleine Charney, Research Services Librarian, at the W.E.B. DuBois Library at the University of Massachusetts Amherst
You can reach Madeleine at:  mcharney@library.umass.edu
 Interviewed by Michelle Eberle, MLS Consultant
References:
Baker, Carolyn. (2013) Collapsing Consciously: A Handbook for Inner Transition. Berkeley, California: North Atlantic Books. p 95