We are a collaborative team consisting of the Massachusetts Library System and Democratic Knowledge Project at Harvard University. For our "Young Changemakers in 21st -Century Libraries" project, we are inviting partner libraries that would be interested in working with us. The duration will be from January 1 through September 30, 2019. We are particularly interested in partnering with libraries that are passionate about helping teens address a variety of challenges from the new media environment and become successful civic agents in our society.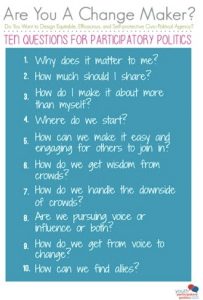 We are asking our partners to learn a new framework of civic learning (known as "the Ten Questions for Young Changemakers"), pilot it, and suggest practical solutions for further implementation beyond the state of Massachusetts. While considering social, cultural, geographic, and economic contexts, we plan to recruit ten libraries. We encourage libraries that serve teens from diverse backgrounds and underrepresented populations to apply.
Please click here for more details and to apply!
Deadline is Sunday 11PM November 19, 2018. A letter of support from your supervisor is also due by the application deadline.