While preparing for my fall workshop, Librarians Fostering Civic Engagement, I discovered this outstanding program series offered at the Watertown Free Public Library.  I'm very excited to bring you an interview with Brita Zitin, Digital Services Librarian, at the Watertown Free Public Library.  Congrats to Brita and the Watertown Free Public Library on offering such a timely and crucial series.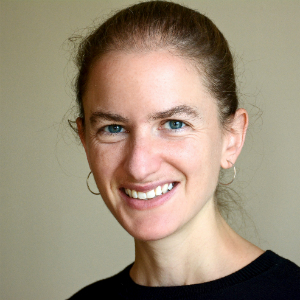 Please tell us about your Democracy Talks series.
Brita Zitin: We started the series in the wake of the 2016 election, sensing that people were eager for both basic information on and deep insight into the political process. The first event was scheduled for the night before the presidential inauguration in January 2017, and we've continued every two or three months since. Topics have included voting rights, immigration, climate change, and fair housing. (A full list is on the WFPL website.) We hope that attendees leave each talk empowered to engage with the topic more confidently, be it in discussion, action, or simply reflection.
How has your community responded to your Democracy Talks series?
While we haven't been capturing any written feedback, attendees often stop to share comments as they leave. We've heard lots along the lines of "Thanks for the series, it's great – and so very much needed" and "I hope the Democracy Talks panels will continue!"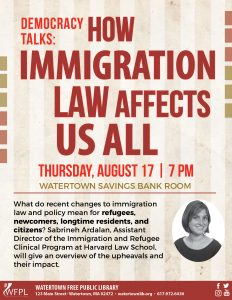 Which programs have been the most popular?
Our first program drew the largest audience, due to the strong opinions and emotions that the impending inauguration stirred up. The speaker, Erin O'Brien of UMass Boston, skillfully channeled all that energy into a focused examination of facts, precedents, and possibilities.
We have also had good attendance at our programs on immigration and citizenship. The latter drew an entire ESL class from the library's Project Literacy program, and some of the students subsequently signed up for the Project Literacy citizenship class!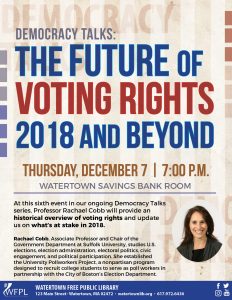 What advice would you give librarians interested to offer similar programs highlighting democracy?
Keep an open mind about what might fall under the umbrella of "democracy." We had originally envisioned the series as a sort of "Civics 101" for grown-ups, with speakers explaining various aspects of how the U.S. government works. However, our speakers' areas of expertise have sent us in unexpected directions that broaden the scope of the series, addressing democracy globally and locally as well as on the national level.
Any other thoughts you would like to share?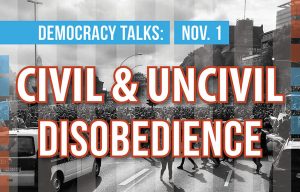 While all of our speakers have graciously answered questions and led discussions, only a couple of them actually live here in Watertown. We've recently formed a partnership with Watertown Community Conversations, a local group dedicated to strengthening the social fabric of our community through use of proven public conversation techniques. Starting with our December 6 event, trained facilitators from this group will lead a discussion following the speaker's Q&A, connecting themes from the talk directly to local issues. We look forward to seeing how this partnership might enhance the series.
Interview with Brita Zitin, Digital Services Librarian, Watertown Free Public Library
Interviewed by Michelle Eberle, Consultant, Massachusetts Library System