Are you concerned about the dramatic decline in civil discourse?  With this in mind, the Wilmington Memorial Library set-out to generate a community-wide atmosphere of kindness through a Revive Civility program series.  The Board of Selectmen were so pleased with this series that they issued a proclamation declaring September 2018 as the Revive Civility Month.  This series is an excellent example of a public library civic engagement program fostering the common good.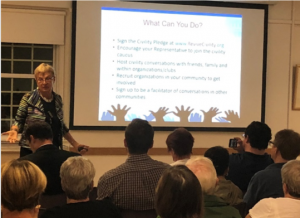 Please tell us about your Revive Civility program series.
In September 2018, the Wilmington Memorial Library presented Revive Civility a month long initiative to raise awareness of the importance of engaging in civil conversations. The library launched Revive Civility with a presentation by Dr. Carolyn Lukensmeyer, the Executive Director of the National Institute for Civil Discourse.  Over 85 people attended this event, including representatives from state and local government. They heard Dr. Lukensmeyer  speak about the causes of incivility in the political arena and beyond and took away tips on what they can do about it. Her presentation set the tone for the three discussion sessions that followed later in the month on Gun Control, NFL Protests, and the Future of Wilmington. The intent of these discussion programs was to give attendees the opportunity to practice the tenets of civility while potentially speaking to those who may disagree with them.   In addition, the library hosted Bill Littlefield from Public Radio's Only a Game who spoke on sportsmanship.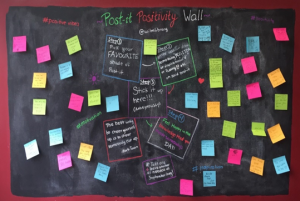 Meditation sessions were offered throughout the month to allow people to learn techniques for dealing with emotions that prompt uncivil behavior.  In addition to offering programs related to civility, the library had books on display that dealt with civility and kindness. We purchased 15 copies each of the two featured books Choosing Civility by P. M. Forni and Treating People Well by Lea Berman and Jeremy Bernard. These books were selected for the library's monthly book discussions.  We also offered a number of children and teen programs that dealt with kindness and etiquette as well as some passive programs such as the "Kindness Tree" and "Post It Positivity Wall" to encourage patrons to think positive and kind thoughts.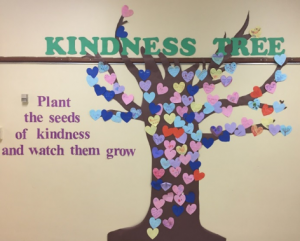 What kind of response have you received to your Revive Civility programs?  
The evaluations from the keynote address may best answer this question.  Comments include:
"Outstanding!"
"Much needed. Excellent"
You gave me hope."
"Excellent, good things to ponder"
"Thank you for doing this. Proud of our library."
"I congratulate the town for initiating this program in this time of strife."
"This is the first step.  I will try to take the part about "listening to learn" to heart."
"The fact that this initiative exists and is reaching out to legislators, citizens, and states is encouraging!"
"A very informative and well organized presentation"
"Awesome presentation! Well worthwhile! Looking forward to more."
I was not sure I was open to wanting to hear from people on the other side. Now I am."
"Great presentation. I hope we can follow her model."
"She was an excellent presenter and everything else she presented was interesting and useful. And thought provoking."
It is difficult to measure the long-term impact of the Revive Civility initiative.  However, we believe that at some level awareness was raised and participants were hopeful that positive change is possible.  Going forward, we plan to continue to address the topic of civility by periodically offering civility related programs. In addition, we plan to reach out to participants who provided us with their email surveying them on long term changes.
Which programs have been the most popular? 
The keynote address by Dr. Carolyn Lukensmeyer drew the biggest audience, which included a number of local government leaders and representatives from local community groups. It should be noted that the Library Director personally reached out to state and local officials, candidates running for office and community representatives inviting them to the keynote address. In addition, we were able to include a Revive Civility postcard in the water bill mailing that went out to all Wilmington households. One thing we noticed is that the Revive Civility events attracted attendees who were new to the library. This may have been a result of outreach to all residents.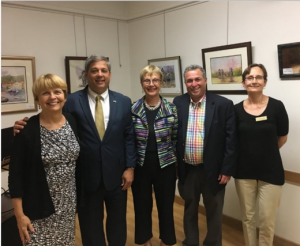 What advice would you give librarians interested to offer similar programs promote civility?
Having a knowledgeable keynote speaker, such as Dr. Lukensmeyer, who can speak directly to the issue providing historical context and proposed solutions, was a good starting point for the series.  Libraries can then follow the keynote address with a variety of related programs that deal with civility. These programs can address such topics as diversity, fake news, social media, etiquette and how to deal with uncivil behavior, etc.
Any other thoughts you would like to share?
Many participants throughout the month indicated that they thought that addressing civility was timely and important.
Interview with:
Tina Stewart, Library Director, Wilmington Memorial Library
Charlotte Wood, Assistant Library Director, Wilmington Memorial Library
Interviewed by Michelle Eberle, MSLIS