With winter here, your patrons may be interested in using your library to spin a yarn — literally, not just at storytime! Libraries throughout Massachusetts have knitting kits, clubs, and events. If you don't already carry a kit, now is a great time to start: many patrons get interested in trying knitting or crochet for the first time in winter.
Kits, Collections and Cataloging
The largest discrepancy between our libraries in their knitting collections is how to list them. The most common listing is "knitting kit," or "crochet kit," but some will have it as a subheading under another title, such as "toys," "makers kit," or "crafts." This type of listing can make searching more difficult for patrons, but sometimes the system requires it, so be sure to remind your patrons to use keyword searches if they don't get results for any unusual items they search for!
One tricky cataloging issue is when something doesn't quite fit in the category patrons may be looking under. If your network does have a standard category for knitting kits, but you circulate round knitting looms, the patron wouldn't find it if they search "knitting kits," so you may have to put extra effort into advertising their availability.
Some libraries have, in addition to or instead of cataloged items, uncataloged needlework supplies as more of a give-and-take set up. Grafton set up 2 large give-and-take bins and found patrons receptive to both donating and taking from them.
A few libraries began by keeping needles available and allowing patrons to borrow them on the honor system, but Fall River advises using kits specifically: Gayle Orlando (coordinator of their Needlecraft Club, which hosted a Yarn Bomb event), initially supplied knitting needles for people attending the club to use, with the request they be returned on the next week. But without a barcode, patrons forget to return the needles.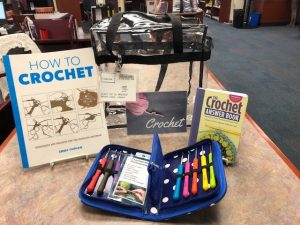 What to include?
Your library can have a successful kit by merely adding a set of knitting needles or crochet hooks in a case to circulate, but some libraries like to include extra items. Wilmington bundles their knitting kit and crochet kit with just about anything you could need except the yarn (books, DVDs, accessories). Others may include yarn, usually donated by their knitting club.
Knitting, more than any other Library of Things collection, seems to frequently start with donations by patrons or knitting club members, rather than a purchase. Even when the initial kit is purchased by the library, if they include any materials, these usually are donated. Many libraries, like Sturgis and Fall River, initially started their kits with generous donations by their knitting club.
A needlework kit doesn't even need to be restricted merely to straight knitting needles or crochet hooks, as some libraries circulate applique, circular needles,  loom, rug hooking, yarn winder, or other related crafting items.
What you include in your kit may differ depending on demand, if someone is willing to donate it, and also space requirements — knitting needles are pretty thin, but to circulate them, they need to be in some kind of case, and the more supplies you add to the kit, the more space it will take up! Some libraries, like Bourne, have extremely active knitting clubs, but have struggled with space requirements to host a circulating collection. Others, such as Needham, may have the space for a kit but restrict to in-library-use for special programs.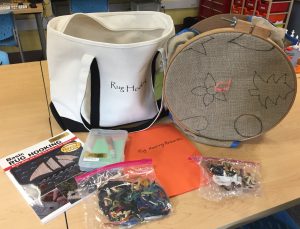 Clubs and Events
Knitting kits, clubs, and events go hand in hand. One may often inspire the other.
In the past couple years, "Yarn Bombing" has become a popular activity, usually hosted by the library's knitting group. Burlington Public Library's Good Yarn Knitting and Crochet Group "Yarn Bombed" the library in June of 2018, creating a spectacular scene to be enjoyed by passersby and patrons inside the library. In addition to looking beautiful, these projects provided tangible examples for patrons interested in knitting. Photos of these eye-catching displays are posted on Burlington's Facebook pages in 2018, from June 11 (National Yarn Bombing Day), through September 7, attracting enough attention to be featured on Burlington Cable Access TV! Although Burlington Public Library doesn't currently circulate kits, their instructional book collection numbers in the hundreds.
Grafton's monthly adult knitting/crochet club makes hats and scarves to donate in winter. Gloucester's Busy Hands group has 2 volunteers who teach knitting, crocheting, and more. Warren's Knitting Circle provides beginning knitting lessons. Wilmington hosts a Needleworkers group that meets every Friday, and periodic how-to programs. Athol has hosted both fiber arts displays and yarn swaps.
These type of programs are great ways to attract interest in patrons who may not have previously thought to join a knitting club, and having kits available helps new knitters who are hesitant to buy supplies until after they know if they will stick with it.
From Burlington Public Library's yarn bomb event
—
Article by Laura M. Bogart, with contributions by Gerry Deyermond of Memorial Hall Library, Andover, Robin Brzozowski of Athol Public Library, Noreen O'Gara of Bedford Free Public Library, Diane M. Ranney of Jonathan Bourne Public Library, Michael Wick of Burlington Public Library, Karen Hahn of Duxbury Free Library, Gayle Orlando of Fall River Public Library, Cindi Williams of Sawyer Free Library, Gloucester, Allison Cushner of Grafton Public Library, Paula Dugan, Needham Free Library, Michelle Filleul of Reading Public Library, Lee Ann Amend of Sharon Public Library, Corinn Flaherty of Salisbury Public Library, Lucy Loomis of Sturgis Library, Kim Kvaracein of Warren Public Library, Kimberly Blakely of Wilmington Memorial Library
Does your library also circulate needlework kits? Please Contact Laura Bogart.
Do you have questions or advice for needlework kit lenders?
Please comment below on this post!
Want to see more collections?
Read our Library of Things Blog posts, or check out our Library of Things LibGuide!
Do you have an unusual collection? Want to be featured on our LibGuide?
Contact Laura Bogart.