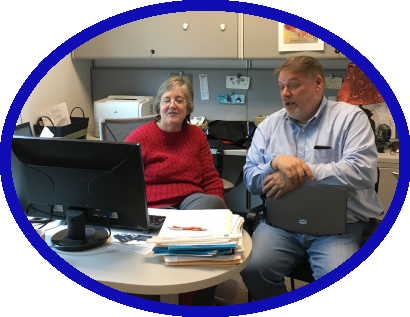 Today, I bring both happy and sad news from your colleagues at Massachusetts Library System. For quite some time, we've been preparing for an upcoming retirement, and it's time to share the news with you.
MLS Interlibrary Loan Manager Sue Kaler is retiring after 5.5 years of stellar service to Massachusetts libraries. Sue joined MLS in 2014 to unify interlibrary loan processing operations at Massachusetts Library System. Here, she built a fantastic team and led innovations in MLS services to expand equity in resource sharing to Massachusetts libraries.
An active member in RUSA STARS, Sue is a national leader who helped shape resource sharing as we know it today. Her retirement is our loss, but we wish her all the best in her next adventures and her international travels.
From Sue:
Working at the MLS with wonderful colleagues and passionate member libraries has been a joy for me over the past five and a half years. I will miss all of you but must say I'm looking forward to having more free time than I've had since Kindergarten! I've always looked with envy at some of the daytime programs I see announced at member libraries, so I expect I'll still be around from time to time. I'm thrilled that Scott will be taking over. I know I'm leaving the Resource Sharing Team in good hands.
Next, it is my pleasure to re-introduce our new Senior Manager for Information Technology, Interlibrary Loan and MassCat, Scott Kehoe. A longtime champion of Massachusetts Libraries, Scott, formerly of the Northeast Massachusetts Regional Library System, has worked at Massachusetts Library System since the beginning Scott began as a technology consultant and trainer and transitioned to MassCat not long ago.
In this new role at Massachusetts Library System, Scott will help to unify resource sharing operations and build on the great foundations that Sue Kaler leaves behind for him. During the month of June, Scott and Sue will work together on a seamless transition. Sue's final day is June 28, and Scott formally assumes his new role on July 1. We are overjoyed that Scott has stepped up to this new challenge and know that he will continue to promote excellence in service to Massachusetts libraries.
From Scott:
I'm looking forward to working with the ILL staff and integrating MassCat services more fully into the Resource Sharing department. It has been an absolute delight working with Sue as I transition into her role. She will be missed. I am very fortunate to inherit her experienced and motivated staff.
Please join us as we celebrate Sue's career and accomplishments and as we welcome Scott in his new role. You can reach them both at sue@masslibsystem.org and scott@masslibsystem.org.