Marlborough Office News
We've completed our Marlborough office move! Thank you for all your good wishes, patience and support as we moved our Marlborough office to our new home at: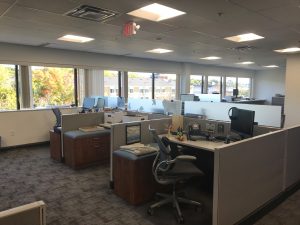 33 Boston Post Rd WEST
Suite 400
Marlborough, MA 01752
This address is recognized by GPS, Google Maps, and other map apps. Please be sure to use the full address; without the "WEST", it will lead you to a different part of Marlborough. Our phone and emails remain the same. Updated directions can be found on our website.
Annual Meeting
Please join us at our 9th Annual Meeting, November 4, 2019 at the College of the Holy Cross, Worcester. In addition to the Business Meeting, the current class of Project SET will present their ignite talks, and we'll welcome Peter Sokolowski, Lexicographer at Merriam Webster as our Keynote Speaker.
To register and for more details please visit our Event Calendar.
Consulting and Training Services Director
MLS is pleased to welcome Terry McQuown to our team! Terry will be joining us as the Consulting and Training Services Director beginning in mid-November. Terry joins us from King County Library System in Washington State, where he was the Learning & Development Coordinator.
Fall CE Calendar
Our CE calendar has been announced and workshops are filling up:
Fall 2019 Workshop Series:
Cultural Competence: A Collection Development Conversation with Kristi Chadwick
Getting Your Grant: An Introduction to the Art and Strategies of Proposal Writing with Shelley Quezada (MBLC)
Effective Meetings: Increase Productivity, Collaboration, and Innovation with Michelle Eberle
What is Media Mentorship?: Screens, Libraries, and Kids with April Mazza and Christi Farrar
Make Shift Happen: weeding the physical collection with Anna Popp
Steer Your Career! with Kelly Jo Woodside
In addition to our series of recurring workshops, we have scheduled several one-time learning opportunities, including:
Procurement: Chapter 30B and MHEC, October 3
Advanced Juggling: the time management / project management workshop, October 10
Opioid Epidemic Symposium, November 15
Based on member feedback, Advanced Juggling, Effective Meetings, and Make Shift Happen are going to be very popular. The Opioid Epidemic Symposium is almost filled, too.
We'll also be hosting some special lunchtime discussions this fall:
Director's Lunchtime Discussion: open topics, October 25 at the Southwick Public Library
Small Library Lunchtime Discussion, November 8, Boylston Public Library
Director's Lunchtime Discussion: Library Governance and Other Topics, December 6, Morrill Memorial Library, Norwood.
Small Library Lunchtime Discussion, date tdb, Yarmouth Town Library
Please register to attend on our calendar.