I'm very excited to bring you this joyful interview with Miki Wolfe, Info Services/Assistant Director at the Sharon Public Library.  Miki will tell us all about two incredibly fun and creative programs that your library can replicate. Though Halloween may not be what we hoped for this year due to the pandemic, your library can still offer this engagement program virtually.  Read on to hear all about the Peeps Diorama Contest and Pumpkin Decorating Context.
Please tell us about the Peeps Diorama Contest and Pumpkin Decorating Contest.
Miki Wolfe: The Peeps Diorama and Pumpkin Decorating contests were both designed with a very appealing concept in mind: the idea that once the basic infrastructure was complete, the patrons would do all the work (creatively speaking). And as these contests allow room for the competitive and non-competitive alike, they are quite popular programs. The contests began small, as most new ideas do, and their popularity has grown exponentially over time. Many of the patrons interested in the contests are entirely new to library programming, and this really gives us the opportunity to form new connections with these community members.
Patrons check out the Peeps/pumpkins, decorate and return them for display, and then the community votes on their favorites. Even those who don't feel exceptionally artistic delight in supporting the talents of others by selecting their favorites. It's a win for everyone.
The Peeps Diorama and Pumpkin Decorating Contests are both sponsored by our incredibly generous Friends of the Sharon Public Library. The rules for the contests are simple: check out a pumpkin or package of Peeps, and return them (decorated) by the due date. For pumpkins, we allow them to be carved or decorated in any fashion. With the Peeps, we set a theme each year. The first year was a general literary theme, and the second year we tied the dioramas to the summer reading theme: A Universe of Stories.
We host the contest in our front lobby, so everyone who walks in can see the entries. Each entry receives a number, and patrons can vote on their favorites (we allow two choices, because it's so hard to pick just one from all the talent on display.) We also take pictures of the entries and post them online for voting purposes, so everyone can have a chance to vote even if they aren't able to visit the library. It really turns into a community-wide event!
What are some of your favorite entries in the contest?
Miki Wolfe: Unsurprisingly, I have a lot of favorites. I love the patrons who turn in these incredibly detailed pumpkins and dioramas. One family actually recreated our children's floor as a Peeps diorama, and the attention to detail was just fantastic. Even the posters on the bookshelves were accurately recreated.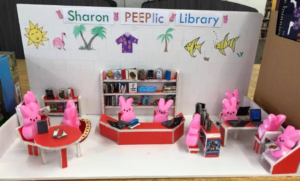 We've had patrons submit pumpkins and Peeps dioramas that are immediately recognizable as tributes to their favorite books, and others that just show a tremendous amount of thoughtfulness and creativity.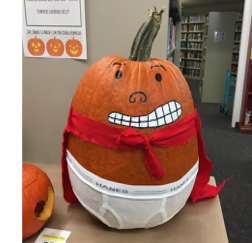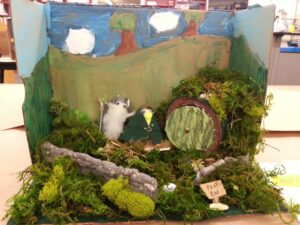 Last year, we tied the theme of the Peeps diorama contest to the Summer Reading Theme of A Universe of Stories. One tween patron made her entire diorama out of edible products, using Rice Krispies, Lifesavers, gingerbread and fondant, among other items. That was a fantastically creative idea, and I bonded with her over our shared love of Food Network cooking shows.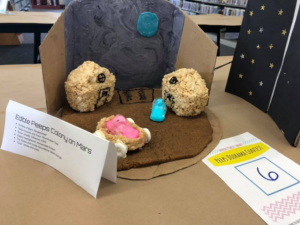 Library staff get involved in the contests as well, and while we aren't allowed to win any prizes, bragging rights also count for a lot.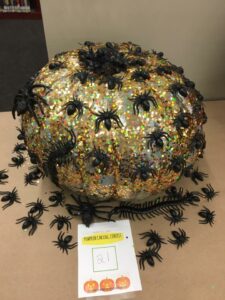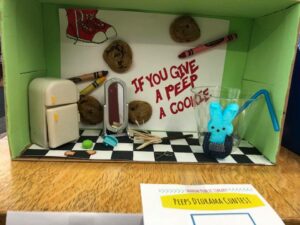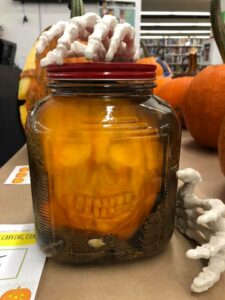 But by far, my favorite Pumpkin/Peep submission over the four years we've been running the contests is this one: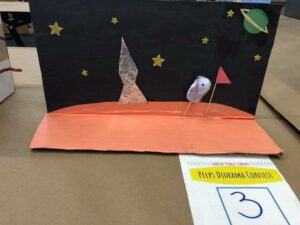 It was submitted by a patron who couldn't have been more than five. She didn't have a box to use as a diorama backing, so she folded up a piece of cardboard. And while she did receive a full package of ten Peeps, only one delicious Peep survived to be submitted. She could not have been more proud of her design, and I adore it. It's moments like this where there's the potential for a profound connection to the library and its services, and we as an institution (hopefully) lay the groundwork for a lifelong love of libraries.
Did the literary-themed dioramas generate patron interest and discussion about the featured books?
Miki: Patrons really enjoy making the connection between the artwork on display and the books they represent. It's fun to see how patrons portray their favorite scenes from books in Peeps form, and even more fun to hear those browsing the dioramas exclaiming in excitement when they recognize a scene or book. Pumpkins also get a lot of literary love too.
Are you planning to offer these programs virtually this year?
Miki: Yes, we will be offering the pumpkin contest online this year. We're not sure if we'll have pumpkins to check out as in years past (still working on that piece) but we will absolutely allow patrons to submit their pumpkin photos to us, and we'll post them online as usual. We're also talking with the local TV station to potentially host a photo display of the pumpkins this year to get the program more visibility, but we're still working on the logistics of the voting there.
Any other thoughts you would like to share?
Miki: This is an easy program with minimal planning required, and a high ROI. Our program numbers skyrocket during these contests.  We're a small public library with adult program participation averaging ten. Last year, the pumpkins received over 275 votes. The Peeps got 609 votes. This is fantastic. It's an easy win with plenty of options for community customization, and the rewards are pretty spectacular. Take a chance and try hosting a contest at your library soon.
If anyone reading this has any questions or would like to talk specifics, please feel free to reach out. And I'm happy to share our design work in Canva too.
Interview with Mikaela Wolfe, Info Services/Assistant Director, Sharon Public Library
Interviewed by Michelle Eberle, Consultant, Massachusetts Library System