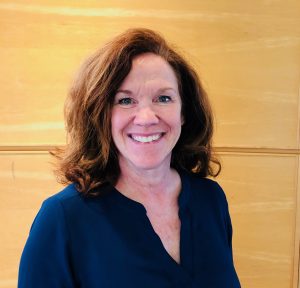 Looking for creative ideas to expand library programs and services outdoors to promote literacy, connectedness, and play? In this interview, Seana Rabbito, Children's Department Head at the Waltham Public Library, tells us about the many ways the library successfully moved programs and services outdoors during the pandemic, as well as, the library's plans for future use of the outdoors.
Tell us about how the Waltham Public Library expanded services and programs to the outdoors.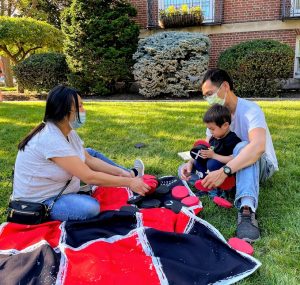 Seana Rabbito: Pre-covid the Waltham Public Library was a destination for our families. We would have over 100 people at a regular weekly storytime, but when the storytime was over many would stay and play, browse for books, and meet friends. When we re-opened to the public this summer with time restrictions and limited browsing, we knew we needed to offer something more. It was obvious to bring our storytimes and programs outside, but answering the question—how do you play outside on a lawn—is how we came up with #LibraryLawn. We put outdoor lawn games and toys, including a slide, a basketball hoop, a large pirate ship, a water table, and trucks on the lawn for everyone to use, even when the library was closed.The library also purchased a variety of lawn games that we put out on the front lawn every day for patrons of all ages to use, including a large Connect-4 game, soccer goals and soccer balls, corn hole, large Jenga, large dominoes, a large checkerboard/tic-tac-toe blanket, large blocks, and more. Families and library patrons of all ages enjoyed playing on the lawn.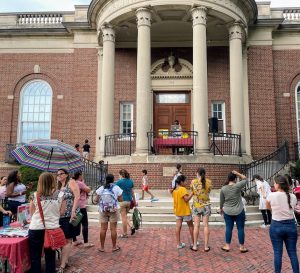 With our storytimes outdoors, we also setup a table outside for bilingual library assistance while our summer intern–who also has her own deejay business–played music from atop the library stairs. Both actions intended to express welcome through music, language, and accessibility. Children and families stayed after storytime to catch bubbles and dance along with our deejay; passerbys on the sidewalk approached the table to ask about library services and even checkout materials on the spot. Some language learners came for help downloading a language learning app on their phones. Others came simply to chat.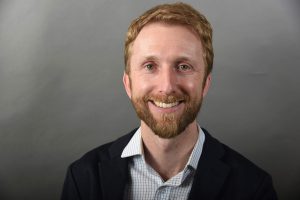 Another amazing addition to summer's programming (2021), led by Aaron Devine, WPL Literacy Coordinator, was the Walk & Talk program for English Language Learners in partnership with Project Literacy of Watertown Free Public Library. The goal of Walk & Talk was to meet outside with learners for conversation and community. They met each Friday at a starting point and walked as a group along trails that line the Charles River, alternating locations in Waltham and Watertown weekly in order to bring the two learner communities together. Movement and nature provided their own vocabulary and conversation prompts, as did learners of varying skill levels who helped one another into conversation. The group saw herons in flight, squadrons of geese and ducks, various plant life and friendly passerbys. Beyond language, the experience of togetherness–combined with sun and even rain–was healing.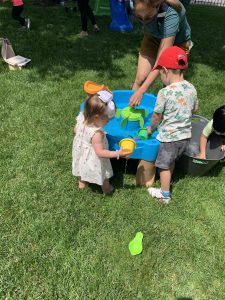 How did your community respond to outdoor library services and programs?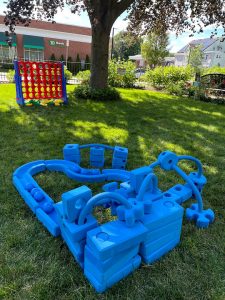 Seana Rabbito: The response from our families was incredible. Some families told us they didn't have a lawn and they loved stopping by on the weekends to play outside as a family, while others extended their stay after storytime to spend some time playing. The library's beautiful lawn is right on Main Street and is very visible to people driving and walking by. Community members and families walking by would notice something happening and decide to join in the fun, while passing cars would honk in appreciation as they drove by. One woman pulled her car over on Main Street and called out. "What is this place?" she asked. "What's going on?" She said she had moved to Waltham during the pandemic, hadn't met anyone, and didn't know where anything was. The music and activities outside caught her attention and she said, "This is great! I'll be back."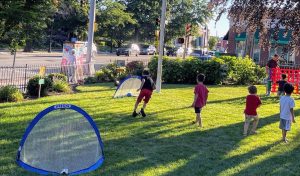 What are the Waltham Public Library's plans for future use of the outdoors?
Seana: We are extremely excited to continue using the outdoors. We can't wait to get creative and expand programming for all ages on the Library lawn. We even have plans for some winter programming, a Snow Storytime and Snow Science are a couple of ideas we are excited to try. We plan to put twinkly lights in the trees and increase outdoor seating. The sky's the limit, bringing programming outside adds a whole new dimension to the sense of community the library strives to create with all of our programming.
What lessons did you learn that may be helpful for other libraries?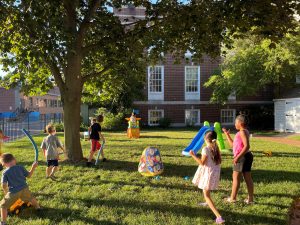 Seana: Being flexible is key! When you are outside, you have to work around outdoor noise including loud cars, emergency vehicles, and buses. But, you can also use your outdoor space to your advantage. This summer, more than once I found myself reading a truck book as a firetruck was passing by, or Don't Let the Pigeon Drive the Bus by Mo Willems, just as a city bus was passing by. I'm sure you can imagine the kids' excitement when this happened. Also, having a backup plan for weather is important, but we learned that Zoom shouldn't be the only backup plan. Choose flexible backup plans that fully translate to each program, even if this means your program needs to be postponed to a future date.
Any final thoughts?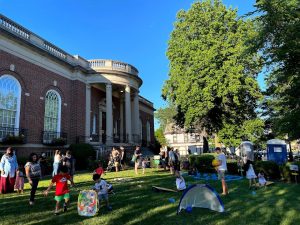 Seana: Sometimes the best things happen when you least expect them. The library's lawn has always been beautiful, but we only ever used it for summer kick-off parties and occasional summer science programming. Seeing the incredible response to bringing our programming and play spaces outside was inspiring and has forever changed our outlook on program planning. Also, as Aaron pointed out, the experience of coming together as a community outside in nature was in itself healing. We are extremely happy to have found ways to open up our space to the community of Waltham, and look forward to all of the amazing opportunities this will bring!
Interview with Seana Rabbito, Waltham Public Library
Photo credits:  Emily Westa, Waltham Public Library
Interviewed by Michelle Eberle, Massachusetts Library System