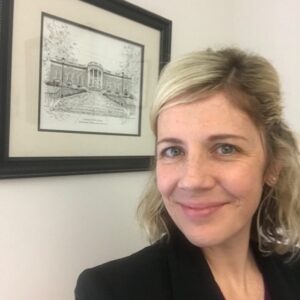 In the summer of 2021, the Boston College School of Social Work reached out to the Massachusetts Library System and Massachusetts Board of Library Commissioners to find field placements at public libraries for several MSW students.  In this interview, we'll hear from Kelly Linehan, the Director of the Waltham Public Library, about her experience with hosting a social work internship and how her staff and community benefitted from this special opportunity.
When MBLC reached out to you with this opportunity, what were your initial thoughts about the feasibility of hosting a social work intern?
When I first heard about this opportunity, I was very excited. I knew Waltham would be well served hosting a social worker at the library. Waltham Public Library (WPL) serves a very diverse community. Waltham offers a lot of social services, shelters and food services, but also a methadone clinic, and we're on the commuter rail and a bus line to Boston. We have many wonderful visitors of all ages each day, and that includes a large population of homeless and substance abusers. Pre and post-COVID, even on a good day, public service here might go beyond just helping someone find a book or walking them to a different floor. It might be knowing how to find someone housing for the night, being alert for a medical emergency, knowing what substance abuse and intoxication look like and when to call 911. 
What did you find most helpful about having a social work intern at your library?
Social workers and librarians are a truly magical partnership. Particularly working in an urban public library, a social worker with an understanding of mental health and a trauma-informed approach, someone willing to jump in and take action, was very valuable. Our intern worked very well independently, took a lot of initiative, and was able to make tangible improvements in people's lives, finding housing and jobs; that's incredible to witness.
Also, a social worker is an amazing resource for staff. Serving any community with mental health issues is difficult and it's very personal. It's not weird to be upset after interacting with someone intoxicated and belligerent. It's not wrong to be nervous to call 911 or wake someone sleeping. Our shelters typically rotate guests every six months so sometimes we get new people with severe issues and needs after we just spent six months investing in our relationship with someone else and their problems. Sometimes we don't get to say goodbye or know how and where people end up. 
This takes up space and energy and we have to acknowledge it and take time to recover. We may all process it differently, but it's there. Library workers need to be able to recognize it and protect our own mental health. Having an in-house person to listen to staff share their own struggles was a benefit I didn't initially think of.  
What kind of feedback did you get from your patrons and community partners about the services provided by your intern?
First, staff was super excited about this opportunity because our team already understands the value in this service. Our Board of Trustees immediately recognized what an amazing opportunity this was for our community. And patrons have been using our social worker's services nonstop. We learned there is a real shortage in available counseling, even for those with private insurance.This hasn't been just a service for someone suffering from mental health issues or going through a major trauma. Many people needed someone to guide them through everyday life changes, like going to college, becoming an empty nester, or marriage counseling in some cases. 
We have been collecting non-identifying data to share the results of this collaboration and look forward to learning and sharing more at the end of the program this year, but I feel confidant we could have three full-time social workers and keep them busy. 
What lessons did you learn from having a social work intern that might help other libraries planning to host a social work intern?
I think it's important for the library team to understand that we don't try to diagnose who may or may not need a social worker. And this is easier said than done. It's not our job to diagnose or "fix" anyone. If someone is unwell and asks us, we can get them immediate help or refer some services, but unless someone is in immediate danger, mostly we meet people where they are and work from there to treat them with the same respect, consideration and care, as any other patron in the building.
If, in the context of a reference interview type engagement, staff determine a patron could benefit from more information on accessing something like housing, employment, food, etc then there's nothing wrong with making that patron aware of the social worker service. If, on the other hand, it's an unsolicited prompt from a staff member who's identifying a supposed "issue" in the context of a heated/emotional conversation or an incident, that's not appropriate. 
That being said, I was surprised by how many patrons took the initiative to reach out to the social worker to set up and appointment. I will admit that I had some reservations (read: ignorance and bias) about whether or not those who needed her service the most would take advantage of this service. They most certainly did. 
Anything else you would like to share?
I'm paraphrasing, but "There but for a little luck go I" is something I think to myself every day. It's a very thin line between "normal" and "mentally ill". Very, very thin. Chances are high we will all need mental health services at some point.
Human connection is so important; that's an important takeaway from COVID. I am really grateful to our intern, Jessica, and the WPL team, who serve our community with so much care, particularly, those who often don't seem to notice or appreciate our work. I'm so proud that the WPL is the type of organization that when people have no where else to go, they can come here and are treated so well.
Interview with Kelly Linehan, Director, Waltham Public Library
Interviewed by Michelle Eberle, Consultant, Massachusetts Library System