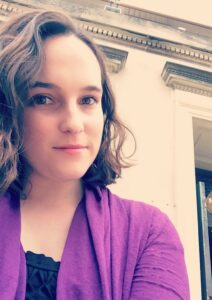 In this interview, we'll hear from Katelyn Duncan, New American Librarian, at the Worcester Public Library about how the library serves as a trusted resource for immigrants.  The Massachusetts Library System is pleased to host The Housing Crisis and Migrants in Massachusetts: What Librarians Should Know webinar on October 20, 2023 presented by Katelyn. Register now to attend. 
How did the Worcester Public Library (WPL) build this partnership with the Worcester Haitian Task Force?
Katelyn Duncan: WPL has long been a destination for new arrivals in the Worcester community to connect with resources, and in recent years especially we have been able to build more programming and partnerships specifically for immigrants, refugees and English learners. I transitioned from a regular Reference Librarian to the new position of New Americans Librarian in May 2022, and that position was moved into our new Community Resources Department this April. Due to those two adjustments, I've had more time to be able to engage with a lot of different meetings around the city that bring together general social services agencies, immigrant and cultural organizations, and other community-based and non-profit agencies who are doing great work. The Haitian Task Force was one of those meetings. They started meeting sometime in fall 2022.
Over the past year, more and more Haitians have been arriving in the Worcester area. Even though we as a library can't help with some of the immediate needs like diapers, food and medical care, staying connected with the organizations who are on the ground is hugely helpful for us to stay aware of what is happening and where we can step in and help. When Haitians began coming to the library I had a better understanding of their situation; for example, I knew many were being sheltered in hotels and wouldn't be able to provide a traditional proof of address, and had some idea how to resolve that.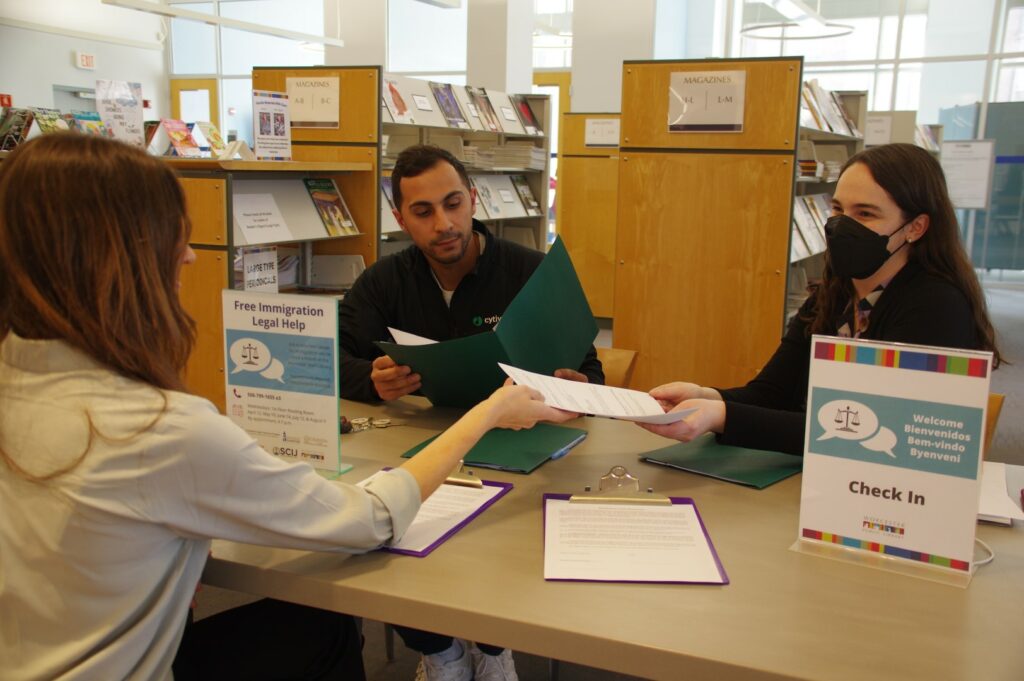 Please tell us about the WPL's Free Immigration Legal Consultations service.
Katelyn Duncan: Over my years at WPL, I have fielded a lot of questions from people who needed legal advice relating to immigration that I am not qualified to answer. I found out about the free immigration legal consultations through the Boston Mayor's Office of Immigrant Advancement, which they have been doing for more than 20 years, and thought if we had the right group of people and the right support from the institution, that was something the library could implement. With the help of Caroline Foley, an attorney at Central West Justice Center, and Jonathan Goldman, Executive Director of the Student Clinic for Immigrant Justice, we were able to recruit attorneys to participate and finally launched our version of the consultations in April 2023.
In the first six months of the consultations, we've been able to help over 160 people meet with immigration attorneys to ask questions, get advice about what benefits they are eligible for, send out forms, and more. It has been amazing to see the turnout and people are incredibly thankful for the help they receive. In many cases, these are folks who would otherwise have to wait months or pay a lot of money to get in for a consultation due to the high levels of demand. The appointments always fill up and we accommodate as many walk-ins as we can.
In addition to the space, registration and managing check-in, the library provides iPads which connect to live audio and/or video interpretation through our city contract with Language Line Solutions.
What are some steps that libraries of any size can take to welcome and support immigrants?
Katelyn: I think any library can host an informal English conversation group! At a minimum, find out who is offering adult English classes near you and coordinate with them: offer tours, get students library cards and let them know the library is a safe space to access resources and information. Connect with local legal aid organizations, resettlement agencies, and culturally-specific organizations and see if they would be interested in hosting events at your location. When I was first starting out I spent a lot of time going to meetings and making it clear I wasn't just there to promote the library, but to find out how the library could support the work of community-based organizations, whether providing space, making referrals, or some other way. Eventually, people started approaching me with ideas for partnerships. You don't necessarily have to start from scratch, you can plug into what is already happening in the community.
What advice would you offer to libraries interested to support migrants with collections, outreach, and programming?
Katelyn: The current intersection of migrants and the housing crisis is new for everyone, and I think step one is just to educate yourself as best you can and be a welcoming voice in your community. However, a lot of what we can do for collections, outreach and programming for migrants is also transferrable to other populations. Making sure the language on your signs and flyers is as simple and clear as possible helps everyone, not just immigrants or migrants. Including children's books about Haitian culture in your collection helps educate non-Haitian families about their new neighbors and lets newly arrived Haitian families see themselves represented.
Any final thoughts?
It has been really wonderful to see how many librarians are already stepping up to learn about the newly arriving families in their communities and find out what they can do to support.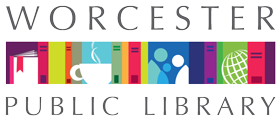 Interview with Katelyn Duncan, New American Librarian, Worcester Public Library
Interviewed by Michelle Eberle, Consultant, Massachusetts Library System