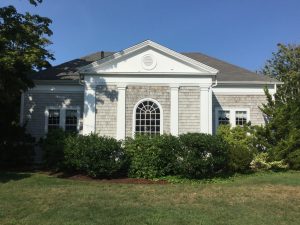 On a recent site visit to the Cotuit Library on Cape Cod, I learned from Antonia Stephens, the library's director, about several interesting program series. In this interview, you'll hear directly from Antonia about these interesting programs. She will also share pro-tips for planning program series at your library.
Please tell us about the recent series that your library has hosted on a wide range of topics including music appreciation, end of life care, and Peru.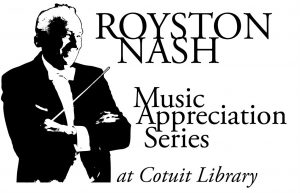 Antonia Stephens: The spring after I arrived at Cotuit, the former, well-loved, conductor of the Cape Cod Symphony—Royston Nash—passed away, and the Library received a lot of donations in his memory. Since we were in the habit of putting on music concerts a few times a year anyway, I decided to leverage those donations and apply for grants to host a two-year music appreciation series in the conductor's honor. The idea was to present live music, workshops, lectures, films and book discussions throughout the year, featuring different genres and having some didactic element, so that the audience would learn something new, rather than just passively enjoy a concert. We ended up getting funding from two agencies—the Mid-Cape Cultural Council and the Arts Foundation of Cape Cod—for two years, which meant we were able to pay a reasonable amount to our performers. We even attracted some outside interest, with individuals and organizations collaborating with us for no cost, such as the Cape Cod Chamber Music Festival. Although the two years have passed, we still put our music programs under the Royston Nash Music Appreciation Series heading, and it's likely we'll look for more grant opportunities in the future.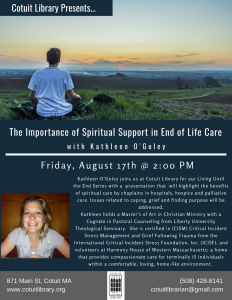 Living Until the End started as just a talk about facing a life-threatening illness, but my Program Coordinator, who at age 24 suffered such an illness, decided to go further with it, eventually including a Death Café, a discussion of end-of-life spirituality, green burial options, a book discussion on Atul Gawande's book, Being Mortal, and a documentary viewing, among other events. It was compressed into one summer, and was attended by people who were very interested in the topics—not a lot of mildly curious folks for this one—but definitely appreciated by those who came.
Pathways of Peru was the latest version of our Wintertide Read and Ramble series, which is also a small fundraiser for the Library. It started four years ago when the former director and a Board member decided to do a variation on what the Boy Scouts in Alaska do and challenge patrons to walk a certain number of miles or read a certain number of books in anticipation of the Iditarod—they called it the Iditawalk/Iditaread. The challenge began at the beginning of January and ended in March when the official Iditarod banquet is held. Participants pledged to walk or read and were given a log to track their progress, a map of the route of the Iditarod, some reading suggestions for books about Alaska and dog sledding and an invitation to a banquet at the end of the series. We also held thematic programs throughout the weeks of the series about Alaska, dog training and even a Facetime interview with a reporter on the trail. As participants covered the miles of finished books, they would move a personalized pin along the large trail map posted in our main room. There were prizes for the first reader and the first walker to reach Anchorage, and a draw for a raffle prize for those who paid to participate (the events were open to everyone, but they didn't get to go to the feast or participate in the raffle).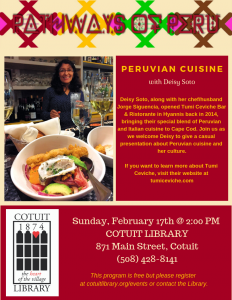 After two years using the Iditarod as the theme, we decided to choose another iconic journey, so the third year we picked the Camino de Santiago in Spain (Camino de Cotuit, naturally), and this year we chose a version of the Inca Trail in Peru. We had some wonderful events—a local Peruvian restauranteur came and spoke about Peruvian cuisine and made the audience ceviche, and Steve Burrows, the structural engineer who worked on the Time Scanners episode on Machu Picchu, Skyped us from California after participants watched the episode so that they could ask him questions, just to name a few. As always, the event finished with a feast and was really fun. It gives people something to do in the grey winter months here on Cape Cod, and even those who aren't here can participate from wherever they are—we filmed most of the events and put them on our YouTube channel for everyone to enjoy. Next year we're going to do some variation on the Pacific Crest Trail.
What programs have been the most popular?
Antonia: The programs that have been the most popular were some of the concerts and lectures in the Music Appreciation Series—Dr. John Clark talking about "The Conductor, the Orchestra and the Audience: A Shared Experience" and the Cranberry Shores Chorus Holiday concert come to mind—and the Peruvian Cuisine talk by Deisy Soto of Tumi Ceviche was also a big hit (people love food).
With so much positive experience coordinating program series at your library, what are your pro-tips for planning program series?
Make sure people KNOW it's a series—design a logo or a catchy name that you can use to brand it, and remind attendees at every event.
If you can group programs into a series that will have some kind of cumulative outcome on attendees, you can sometimes build a narrative to go along with it that you can use to apply for grants.
Any lessons learned or other thoughts you would like to share?
It can be surprisingly difficult to get people to commit to anything that meets more than once, so series that you do intend to have a cumulative outcome on people may not actually work out that way. We frequently had a whole set of new people at series events, along with a handful of repeat attendees.
Interview with Antonia Stephens, Director, Cotuit Library
Interviewed by Michelle Eberle, Consultant, Massachusetts Library System