Spring has sprung and we're well immersed in planting season. Have you considered adding tools to your Library of Things?
This is a companion piece to Growing your patron base — please read Growing your patron base for information about seed libraries.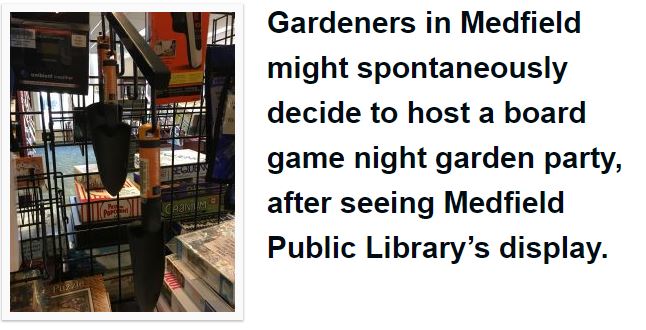 Why lend gardening tools?
The overall feedback from librarians is gardening tools are extremely popular. When they reach out to the community for feedback, gardening tools are near the top of the list. In fact, if you're looking to start your Library of Things for the first time, a good bet is to start with gardening tools and a ukulele.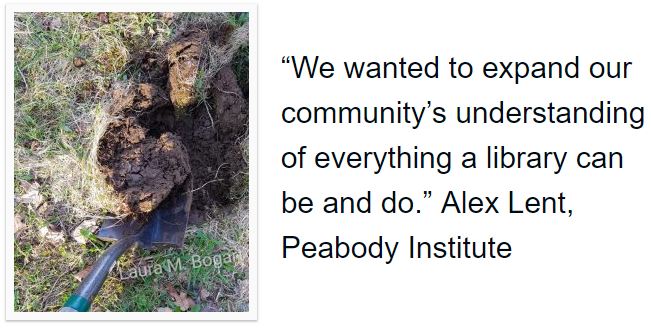 What types of tools to add
Your community will often determine what type of tools you want to stock: either by donating something, or by answering a survey about what they need. Soil meters are popular, along with hand tools, and one library plans to increase their collection with a tiller next year.F
If your librarians garden, they usually know what brand and type of tools to add. If not (and there isn't a local garden club to ask), librarians search for garden tools within their price limit with good reviews on Amazon. Most libraries set the budget at $75 or under per item, which is the average cost for an audiobook.
Selecting which gardening tools to carry is one of the larger challenges, as there will always be patrons who want other tools. You can usually tell what is highest demand by asking a local garden group or, lacking that, seeing what is the most popular on Amazon.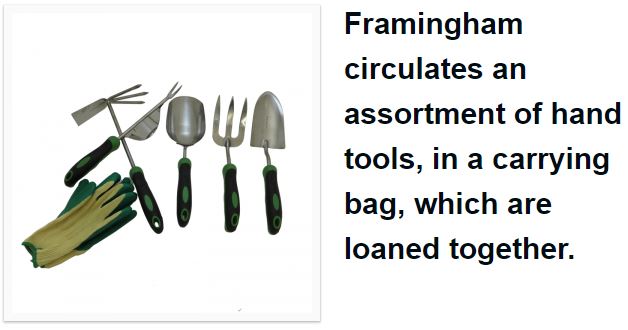 Display
There are many approaches your library can take to attract attention to your display. Medfield has many garden spades and displays them prominently with other Library of Things items, while other libraries may spread the collection throughout the library, in places they will stand out. If your library has little shelf space, you may need to keep your items in storage and create attractive signs for your collection. You can put gardening books out with your tools display to keep your patrons' growing skills sharp!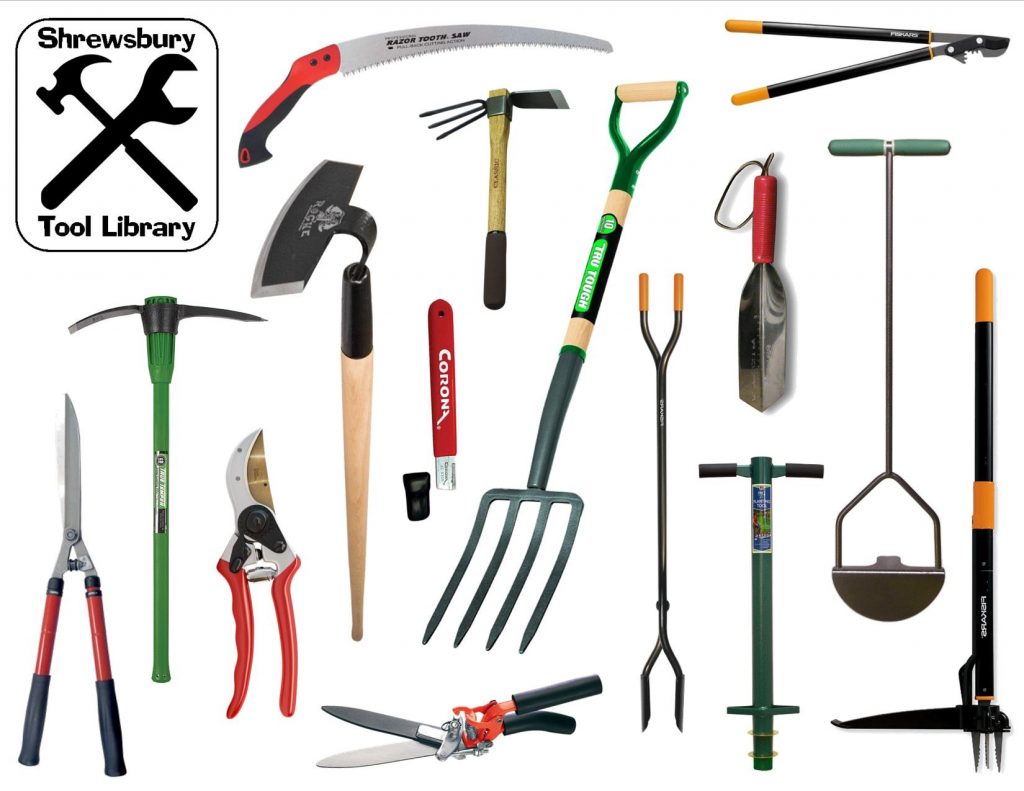 Shrewsbury put together a binder with photos of their many tools, as well as a Liability Waiver Form.
Circulating
Tools are usually (but not always) circulated in a bag. Most libraries lend to anyone with a card in good standing in their network, but don't allow it to be sent through Delivery. One also restricts to no holds or renewals, while the other has the record set up so holds can be placed only with the pick up location as their library. Hefty fines (up to $2 per day) are often included as part of this collection, to ensure other patrons have a chance to use the tools during planting season. While tools and other Library of Things items used to be restricted to town residents only, many libraries now report they allow these increasingly mainstream items to circulate to anyone with a network library card.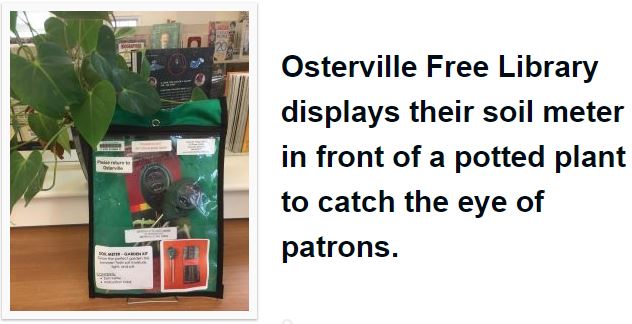 Events
If you throw a seed swap as a seasonal kick-off event, that's a great opportunity to bring out your gardening tools and show them off, as well as demonstrate anything less common. You may want to continue to bring out the tools to any gardening programs you host throughout the year. See Growing your patron base for more information about gardening events and programs.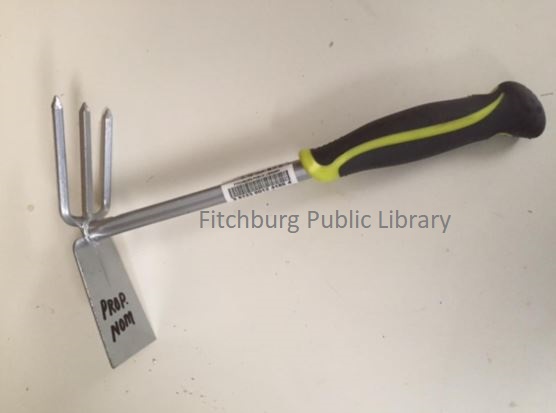 Challenges
The biggest concern libraries expressed is the risk of lending sharp objects. Some limit themselves to only a soil meter or other "safe" garden tools, while others write waivers for the patron to sign before borrowing the tools.
Framingham has developed an easy blanket waiver for all their Library of Things items:
I have read the Thing Lending Policy and agree to comply with its rules.
I agree to assume responsibility for the care and return of the items as well as financial responsibility for their replacement cost not to exceed their value.
If any issues arise in complying with these rules and guidelines, I agree to contact Library staff as soon as possible to resolve them.
I agree to return the item to a staff person at the Library from which it was borrowed.
For a more elaborate waiver, read the fantastic examples below:
Another challenge is how to catalog. Some libraries have them individually by name and others under "gardening tools." Since Library of Things collections have no uniform cataloging standards, sometimes they are all collected under item name "Library of Things" with each individual item listed, but that will not come up in a catalog search. Ideally, each item will be cataloged so it can be searched, but this can be a cataloging nightmare, possibly even unattainable.
Patrons will almost always understand that a specialty item they had to pick up in the library must also be returned to the same library, but it's a good idea to have that printed somewhere and remind them verbally just in case.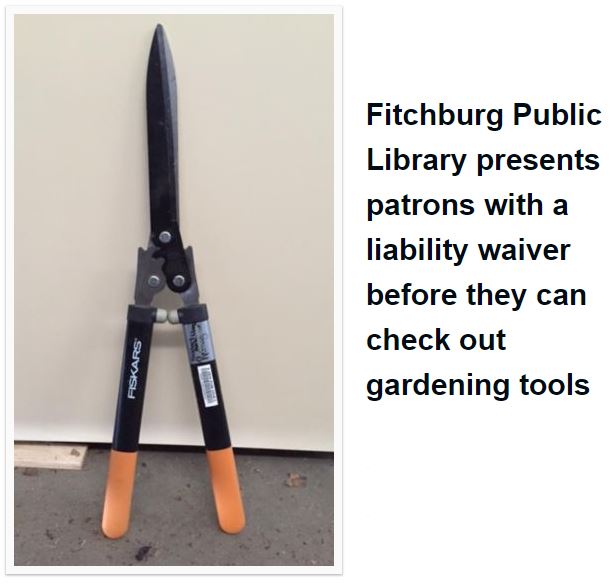 Success Stories
Garden Clubs seem to find out about the tools very quickly and spread the word among their members, guaranteeing high circulation. Additionally, patrons are thrilled to see something so unusual circulating, so it's been a great way to open up patrons to the idea that libraries are more than "just books."
At one library, a local school found out about the collection and borrowed all the gardening trowels to plant a school garden!
Many participating libraries only recently started lending garden tools, as communities have become more interested in recent years, so if you lend garden tools or are interested in lending garden tools, please comment below to start a conversation!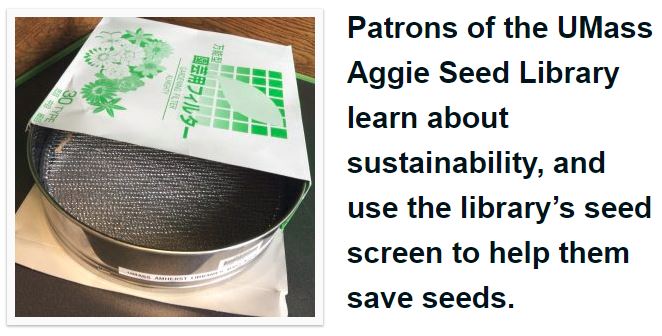 Want to see more fantastic collections? Read our other Library of Things Blog posts, or check out our Library of Things LibGuide.
Article by Laura M. Bogart, with contributions by John LeRoy of Osterville Village Library, Barnstable; Liz Caffi and Laurie Formichella of Beverly Public Library; Alexander Lent of Peabody Institute, Danvers; Sharon A. Bernard of Fitchburg Public Library; Kara MacKeil-Pepin of Framingham Public Library; Heather O'Neil of Medfield Public Library; Samuel Reggio of Berkshire Athenaeum, Pittsfield; Priya Rathnam of Shrewsbury Public Library; Paulina Borrego of UMass Amherst.